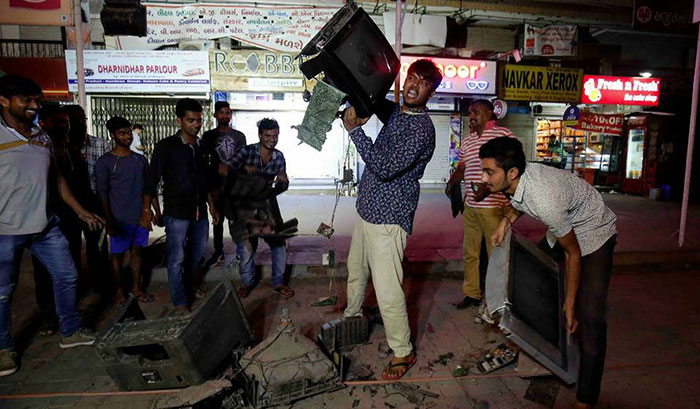 It appears that some Indian citizens have taken their national cricket team's defeat against Pakistan a little too hard.

Shocked silence reverberated across New Delhi on Sunday night following the historic upset by Pakistan in the Champions Trophy final at The Oval in London.
Delhi's streets were all but deserted after the game ended with fans storming out of public screenings after Hardik Pandya's 76-run blitz ended with India staring down the barrel at 152-7.
"I am shocked... we thought we would have them for dinner, but it has turned the other way," Amit Sharma told news agency AFP at Delhi's Connaught Place.
"We had planned big celebrations for what seemed like a sure shot victory for us with the way we were playing and also how Pakistan had just scraped into the final," Sharma added.
Disgruntled Indian fans quietly walked away from open air screenings in disbelief.
While some fireworks were ignited at the National Stadium near India Gate, Sanjay, a disappointed fan, said they were "fireworks of anger".
"A loss against Pakistan is always a bitter pill to swallow. But you have to applaud their brand of cricket and their comeback in this tournament after being crushed by India," Raju Verma, an auto driver, said.
Disappointed fans break TV sets in anger
Some heart-broken Indian fans responded with anger.

India media showed one emotional fan crying as he spoke to journalists after India's defeat at the hand of the Green Shirts. 

Photos showed others breaking their television sets in anger on the streets of Delhi.
The rather extreme reaction, ironically, came after Indian sports journalist Vikrant Gupta claimed that if India loses the match against Pakistan, "at least nobody in India would react by breaking TV sets in anger".

Gupta's claim was a jab at emotional Pakistani cricket fans, some of whom have in the past reacted to Pakistan's defeat against India in a similar manner.

Meanwhile, residents of Indian Occupied Kashmir celebrated Pakistan's victory over their arch-rivals with defiant pro-Pakistan chants and fireworks.

Young men gathered in mass at TV shops across Srinagar as Pakistan belied expectations to thrash Virat Kohli's team by 180 runs at the Oval.
Muslims in Indian Occupied Kashmir took to the streets after the win waving Pakistani flags and chanting "Jive Jive Pakistan (long live Pakistan)" as fireworks exploded over Srinagar's skies.
"This is the moment we were waiting for... It is a dream come true," a Kashmiri youth shouted in support of the Sarfraz Ahmed-led Pakistan team.
"Winning this trophy apart, I am celebrating my political sentiment as well," Amir, who gave only his first name, told AFP outside the grand mosque in Srinagar's old town of Nowhatta.
"This was long overdue."
Underdogs Pakistan, who lost their opener to India by 124 runs, turned around their fortunes in the 50-over tournament to clinch their maiden Champions Trophy crown.
Pakistan, the bottom-ranked side in the eight-team event, rode on opener Fakhar Zaman's maiden one-day international century to post 338-4 and then bundled out India for a paltry 158 in 30.3 overs.
It was Pakistan's first global 50-over title since the 1992 World Cup.