KARACHI: At least six people have been confirmed dead as a three-storey building in the city's Liaquatabad No.9 area caved in late Monday night.

The building collapse also injured at least 12 people, and several other residents are feared stuck in the rubble.
According to rescue sources, six bodies, including those of a woman and child, were recovered from the debris, while the injured were shifted to Abbasi Shaheed Hospital.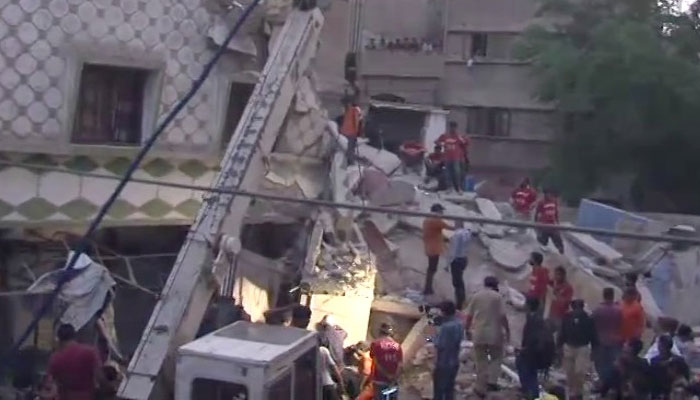 Rescue work could take up to another 24 hours to be completed, said DC Central.
According to eyewitnesses' accounts, the building was old and in a dilapidated state and some bricks could be seen falling off in days leading up to the tragic incident.
The building gave in at around 2:30 am Tuesday and collapsed to the ground, the eyewitnesses said. 
It was reported no machinery was sent to the site until two hours after the incident.

However, Deputy Mayor Arshad Vohra said heavy machinery was not being employed due to the risk of further damage and casualties. 

An eyewitness told Geo News that 20 people were residing in the building.
People continue to live in dangerous buildings across the city, despite notices being issued by the authorities concerned.
In June, Sindh Building Control Authority issued eviction notices to residents of 354 unsafe buildings following the first monsoon spell in the city.
The enlisted buildings were declared unsuitable for use even before rain had hit the city, but hundreds of people continue to use them. 
In February, two people were killed and five others were injured after a two-storey building in Neelam Colony collapsed.