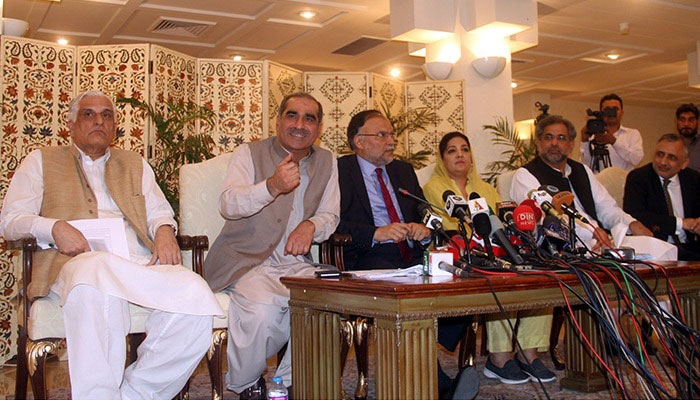 ISLAMABAD: PMl-N lawmakers on Friday expressed reservations over the disqualification of Nawaz Sharif and said the removal of the premier was not on the basis of Panama Papers.
The PML-N leadership also said that it is likely that a review petition will be filed.
"This decision is not acceptable and we will file a review petition in court," said Saad Rafique.
The press conference was held by Barrister Zafarullah, Ahsan Iqbal, Saad Rafique, Shahid Khaqan Abbasi and Zaid Hamid.

"Nawaz Sharif was not disqualified on the basis of Panama Papers," said Saad Rafique. 

He added that it is not the first time the PML-N has been made to bear the brunt of such tactics. 
"Imran Khan, you are nothing more than a pawn."
Rafique added that Imran has tried repeatedly to oust the PML-N government and has used every trick that he could. 
The minister claimed that Nawaz and the PML-N have been punished for bringing China-Pakistan Economic Corridor (CPEC) to the country, "just in the same manner we were punished for conducting nuclear tests in 1998".

"We want civil supremacy in Pakistan and will not go to the court of the people," said the PML-N stalwart.  
'Will defend mandate of people'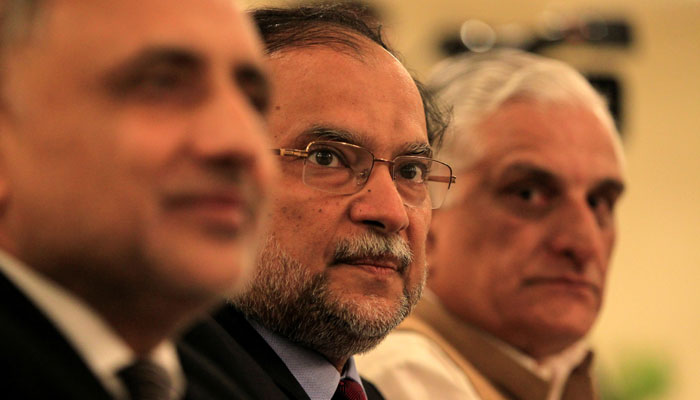 Ahsan Iqbal, during the press conference, said his confidence in his leadership has increased ten-fold after the apex court verdict. 

Iqbal said that Nawaz during the meeting today clearly said that the mandate of the people will be defended and the PML-N will complete its tenure. 
"The supporters of PML-N should be proud of their leader, as no one has undergone as much scrutiny as Nawaz Sharif and yet nothing was proven against him except that he could have received money from his son but did not," said Iqbal. 
He further said the PTI had alleged billions in corruption, but their claims were not proven. 
"After allegations of billions made through corruption, he was disqualified over Rs0.2 million."
Shahid Khaqan Abbasi said that they have now put their case infront of the people as the people should be aware that there was no corruption.
He also said that the decision will now be challenged on legal forums now.
"Musharraf tried for eight years but could not prove any corruption against Nawaz Sharif."
"History will not accept the decision," said Abbasi. 
"Since 1947 till date, not one prime minister of Pakistan has completed the five year tenure. Call it irony of fate or mistakes on one ground or the other," said the Barrister Zafarullah.