'Pakistani football has been in I.C.U. for the last two and a half years'.

Ahmed Jan did not mince his words when asked about the current status of football in the country.
Clearly an outspoken individual, Jan, a former FIFA referee, has looked after the KMC Stadium in Karachi for the last 27 years and from the outset it was clear that football ran through his veins.
Locating the KMC Stadium is not the easiest feat. There are mechanic shops bordering every corner outside the stadium and poorly maintained buildings and overcrowded streets neighbour it. At a glance, a haven for football would be the furthest thing the area would seem to offer.
If it were not for a gate left ajar to allow a glimpse of the emerald green grass, striking out against the pale colours that surrounded it, it would have been a hard spot to find.
My initial expectation was to just ask Jan a few questions about the general status of football in Karachi and then continue my research on the sport elsewhere. 
However, what transpired during my encounter that day opened my eyes to a sanctuary, where football meant more than what occurred on the pitch.
Following a brief introduction and a hospitable offer of refreshments, Jan had plastic chairs placed on the top of the stands because "we do not get such weather every day", he stated in a very matter-of-fact tone. So, as we sat down, with a delicate breeze and the ongoing clamor of traffic in the background, the conversation began.
To add some context, the most recent FIFA ranking placed Pakistan at a miserable 200 out of 211 nations. Making matters worse, FIFA is currently deciding whether to give the nation a suspension or not.
Jan bluntly analysed the situation.
'Our country is full of crooks; FIFA themselves are crooks. They have had 14 men under investigation for corruption. What are they going to do? From what I have seen they are not checking for anything anywhere. They are all frauds.'
Time will tell for the Pakistan Footballing Federation (PFF), but Jan, who has had a difficult relationship with the federation, having even been fined and suspended for past comments, was in no mood to sing any praises. 
Instead, he preferred adding a couple of profanities to aid his crude assessment of football governing bodies, both nationally and internationally.
Amidst the vulgarities and ventilator-related metaphors, Jan made it a point to draw attention to the nearby neighbourhood of Lyari, notorious for gang-violence and extreme poverty, and its footballing excellence.
"Karachi has five districts, but the footballing activity that has occurred in the south, especially Lyari, has not happened anywhere else in the city," he affirmed.
"The way some of these kids pass the ball and make space is phenomenal. It is definitely a God-given talent. I call it 'Little Brazil'."
"And even these people who are accused of gang wars, in the month of Ramazan set up tournaments from their own pockets and give prizes, like motorbikes. What benefit is it for them?" He asked rhetorically, attempting to display the sheer passion for the sport that thrives in this neighbourhood that is so often overshadowed by criminal activity.
"A third person then takes advantage of this," he carries on. "A bomb blast happens and innocent children are killed. My question for you is what will the government do about this? They do nothing. No security even though it is their duty. Those families are destroyed" Jan's tone lowered and he shook his head, in a combination of grief and disgust.
Jan is definitely not the first to notice the immense talent present in Lyari, or to compare it to the Brazilian favelas. However, hearing about the wasted potential, due to terrorism and abject poverty, from a man who has worked so closely with these children, is a real kick in the guts that resonates greater than any news report. It is truly miraculous how the love for football continues here despite the tribulations they face on a daily basis.
Jan then diverts the conversation to a "project" he was working on. He was aiming to set up a new team from an impoverished area with the help of a sponsor.
"Abdul Barr, Chairman of Karachi Fisherman Cooperative Society, asked me to make a team for children from the fisheries. I have just taken trials from them and the talent coming through is unbelievable. What can I tell you? From the seaside! It is that sort of talent that I am getting worried!" he exclaims and bursts into laughter with more animated gestures in enthusiasm.

"My plan is to make one team from the fisheries and another team from Lyari. Then combine them and we will hopefully take them to other countries, possibly England, for training and competitions." His upright body language oozed eagerness, as one could tell he was itching to get it underway.
"He [Barr] is a political man. While he is in power he is attempting to do such things. If he sticks to his word then let's see. It would be great for our football", he adds, almost as a reminder to not get too carried away yet.
This is a man who still has hope. From the pristine condition of the KMC Stadium's grass, to his daily commitment to promoting football, Ahmed Jan is a man who has dedicated his life to the sport. Not for financial gain, purely out of love. 
In his book, The Greatest, best-selling author Mathew Syed writes about the roles of volunteers in sport. He eloquently states, 'what these people contribute to a nation is not measured in money, but in soul. It is in these acts of solidarity and love, both making and receiving them, that life finds meaning.' Jan is an ideal example.
The conversation led to a brief talk on tactics, with Ahmed Jan explaining how the style in Karachi differs from other areas, such as Punjab, where it is much more physical. He claims that Karachi is known for its short, quick passing, or 'type-writer' football, as he likes to call it.
The discussion was momentarily interrupted as we were then joined by two of Jan's close companions, Nabi Baksh Baloch and Shamroze Khan, as they made their way through the stadium entrance and up the stands.
Baloch played as a defender in the 1960's and 1970's, including representing Pakistan youth in 1968. Jan, like a proud brother, affirmed that Baloch was a 'martyr on the pitch'; with the way he would throw his body on the line to prevent his team from conceding.
A man of generally few words, I was told by Jan, Baloch's knowledge on the game was remarkable. He fondly remembered his favorite players from previous generations. He spoke about figures such as 'Captain' Mohammad Omar, a legendary forward for Lyari and Turrab Ali, a defender who was nicknamed the 'Great Wall'. "It is not just in China", Ahmed Jan chimed in with a cheeky grin. 
A unanimous favourite among all three men was Abdul Ghafoor, who was given the name 'Pakistani Pele' because of his similarities, both physically and in playstyle, with the legendary Brazilian.
"He would control the ball from the air with such grace, it was like he was serving it on a plate", Baloch stated on Ghafoor's technical ability.
I sat mesmerized on the intrinsic details these men knew about almost every player from their era. Shamroze Khan, a left-winger in his time, proudly mentioned the camaraderie that exists to this day.
"No one knows each other outside the pitch anymore. Our companionship, even with those who weren't our teammates, was so strong that to this day people in Lyari recognise me. I have no fear walking on what people tell me are unsafe streets because we built a sense of community here through football."
"Can you imagine this ground would be filled with fifteen thousand people for every game?" Jan added. "It would be jam-packed."
"Teams from Russia, China and Turkey came and played on this very turf", Jan exclaimed. He then paused. His eyes wandered the now empty stands, recollecting those treasured memories.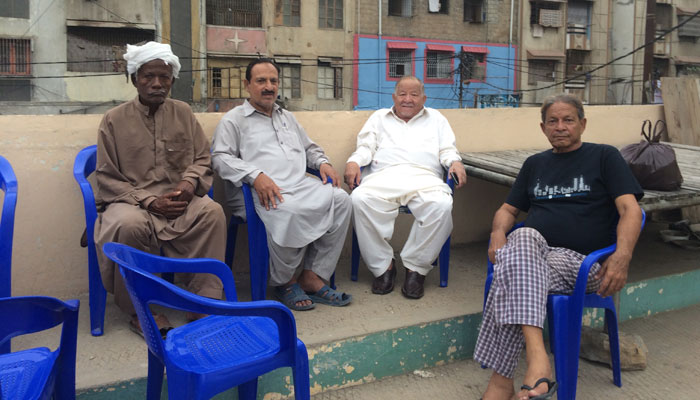 As the men reminisced on a seemingly golden time, a group of teenagers entered the stadium with a football and immediately started playing. 
Soon the noise of cars honking was drowned out by the voices of the boys. Shortly after, two more individuals joined us. One was Jamil Ahmed, current president of District Football Association [DFA] South Karachi. The other, Younus Changezi, a Pakistani legend I was told, had me slightly embarrassed at my lack of knowledge on the country's footballing past at this point.

Changezi, nicknamed 'Tarzan' from his school days for his athleticism, has had an illustrious career I soon discovered. Having represented Pakistan at youth level in 1965, he then played for both Pakistan Army and the national team, traveling to places such as Russia to represent the country. He was also a national chief selector for the football team in the 1989 and 2004 South Asian Federation [SAF] Games, the only two occasions the country has won the gold medal. He first played at the KMC Stadium in 1962 and has been a frequent visitor since.
After exchanging pleasantries and a few humorous words, courtesy of Jan, the topic of conversation reverted back to football.
Changezi lamented the lack of facilities present today.
'When the national team does not even have its own ground, how can you expect anything?' A disheartening truth.
Similarly, Jamil Ahmed, was concerned with the manner in which schools, which used to be the main producers of talent, no longer prioritise sports. He uses the Abdullah Haroon Academy in Lyari as an example, which used to have its own ground but is now a technical institute.
"It should be the other way round," he claims. "Football is no longer just a game. They need to keep education with sports. Look at the best countries, they have so many departments to analyse the game, from recovery to the way the ball is kicked. Football is no longer a sport, it is a science".
The fact schools are no longer placing importance on sports is compounded by the rising costs of the game. Ahmed adds that it is too expensive to consistently create events for young children, as he breaks down the finances of keeping football alive in Lyari.
"Rs500,000 per tournament; Rs4,000 per day. Even the footballs themselves are becoming too expensive - Rs550 per day. We host some tournaments on the streets and the balls are susceptible to getting punctured so we need spares. It is not easy."
Safe to say, money is crippling the progression of football-crazy Lyari.
"So who are these children playing then? A new team?" Changezi asked Ahmed Jan, pointing at the boys on the pitch, which was possibly an attempt to divert the attention from further talk on the struggling status of Karachi football.
"My dear friend, these kids came yesterday and asked me how much the booking was for. I told them Rs3500 is the standard price. They were complaining that it was too much but they turned up today and started playing. Let's see if they pay. If they do we'll get some more tea, what else will we do?"
Changezi chuckled in response and the conversation then bounced from joking about each other's married life to critically analysing the tactics of the makeshift match in front us.
It was at that moment, sitting among these fascinating individuals, that it all made sense to me. How despite all the difficulties that they are faced with, the fact remains that somehow, football still thrives here. It has made it through corruption, financial difficulties and security threats.
Football is a simple game, yet its effects are so much more profound. From the captivating competition to the lifetime relationships it forges, sport reinforces themes of human condition that are seldom found so consistently and prominently in other aspects of life.
During my visit, I simply gained a snapshot of the devotion such individuals have for the game. The passion and dedication transcend any achievement that can occur on the pitch. In a world where news of Neymar being bought by Paris Saint-German for an excess of 200 million pounds floods newspapers, it is really on the other end of the planet where the selfless work of such people is keeping the essence of football alive.
Thus, Pakistani football may be on life support, but without such unsung heroes, it would have stopped breathing long ago.