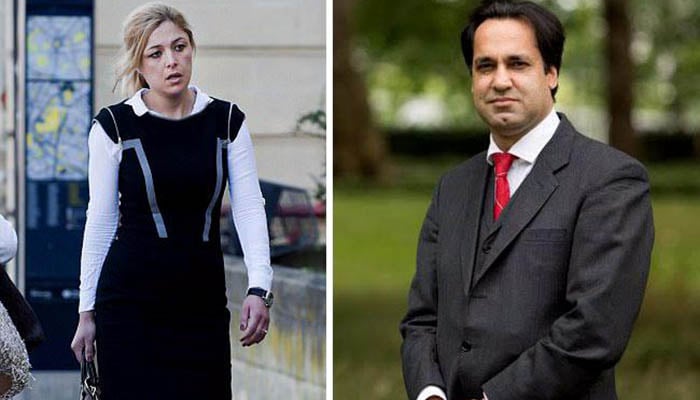 LONDON: A prominent British-Pakistan lawyer Zarif Khan was successful in saving a Russian billionaire heiress from a conviction after he won an appeal against an original conviction. 
Barrister Zarif Khan represented Nicole Ovchinnikova after the wealthy heiress was convicted of being intoxicated while in charge of a child during an alleged hotel drinking binge. At the original trial, the police had told the judge that she had been found staggering following a night out drinking with a family friend in an East London hotel and her child was also taken into police protection.

But at the appeal hearing, Zarif Khan argued on behalf of her client that her limp made her look as if she had been drinking. He informed the court that fashion designer Nicole Ovchinnikova, 37, had broken her ankle a year ago and drags her foot so badly that people assume she has been drinking.
The former model, who is said to be friends with Kate Moss and Paris Hilton, was given a £500 fine by Stratford magistrates in August after her arrest at the Britannia International Hotel in Canary Wharf in March. The child was said to be present and was even sitting on her lap at 7AM when police arrived.
In police interviews after the incident, Nicole said she had consumed three bottles of wine between her and Mr Paul Brierly.
David Jenkins QC, prosecuting, said: "The prosecution's case, put quite simply, is that she and a male she was with, were drinking all night. By the early morning when the police arrived, she was still drunk."
She won her appeal at Snaresbrook Crown Court where Mr Roger Stewart QC overturned her conviction following a two-day appeal, saying there was reasonable doubt in her guilt.
Zarif Khan suggested if the hotel staff had been bribed to call the police.
Zarif Khan told the court Nicole came from a 'respectable family' and there had been a great deal of coverage in the UK and Russia due to her connections. He said: "A lot of what the night manager says is hearsay. But there was no concern raised when he first observed her at 11PM. This was in the confines of a hotel and not in the open or out on the M4 or driving. It was a respectful hotel with CCTV and there were numerous people about. This case has had an enormous effect on her."
Speaking to this scribe, Zarif Khan explained how he was able to help overturn the serious conviction because the child was taken away by the social services. He said that this case was brought under section 2(1) of The Licensing Act 1902. "Being drunk and in charge of a child under the age of 7. After Nicole's arrest, the child was taken into protective custody by social services. She was convicted in the Magistrates court in July of this year after a 2 Day trial."
The Russian heiress approached Zarif Khan to represent her in the appeal court. "The appeal allowed me to cross-examine the prosecution witnesses and re-analyse the basis upon which the police thought she was drunk. As the Judge remarked the prosecution witnesses were inconsistent. The judges said: 'We are not satisfied that the defendant was drunk in charge of the child. We say that for three reasons: The police case raises reasonable doubt, in some respects the prosecution case was unsatisfactory, notably the lack of detail as to the reasons they parted her from the child, and the lack of some material the defence requested and could expect to be made available. For those reasons we uphold the appeal and find the defendant not guilty.'
Zarif Khan said his client burst into tears when the conviction was quashed. "She was understandably elated and relieved but cried that the appeal was upheld and the conviction was quashed."
Zarif Khan explained that he normally took on cases that involve serious crime such as murder and terrorism. "Although in some respects this case can be regarded as a minor criminal matter, the consequences had a far reaching impact and have been devastating for all parties. Many cases that I undertake are high profile but it's rare for billionaire heiress to be in court for such an offence."
Zarif Khan has represented, across Britain, dozens of defendants in terrorism related and sex grooming cases, mostly involving British Pakistanis. "Over the years I have done numerous terrorism cases and in relation to sex grooming I undertook two of the most high profile cases, which have informed the law and procedure in this area, namely the Rochdale grooming case and the Oxford grooming case. The Oxford grooming case remains the leading sentencing authority for these types of offences."