KHAIRPUR: The death toll after a deadly accident in Khairpur rose to 20 from 17 after three of the seven injured succumbed to their wounds. 

The deadly traffic accident took place early Monday when, according to police officials, a truck laden with coal en route from Ranipur to Sukkur attempted to overtake a passenger van on the Shah Hussain bypass. 
ASP Rai Mazhar Iqbal told Geo News that the heavily loaded truck lost control while overtaking and fell on the van, which was on its way to Punjab from Karachi. 

The deceased and the injured were shifted to Civil Hospital, Khairpur after being recovered from the crushed van. The van had to be cut open after the truck on top of it was removed with the help of cranes.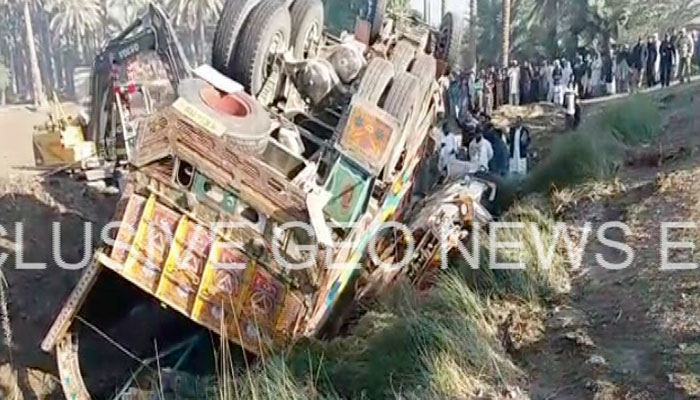 The hospital's medical superintendent, Dr Ghulam Soomro, had said two of the injured were in critical condition and efforts were being made to provide them with the best medical treatment. 
However, three of the injured passed away later due to the serious nature of their injuries. 
Motorway officials said later the incident, which occurred around 7am, was caused by overspeeding of both vehicles as well as the dense early morning fog. 

Khairpur deputy commissioner said the deceased included labourers, and fruit sellers, adding that 19 of the deceased are from Ranipur and one from Ghotki.