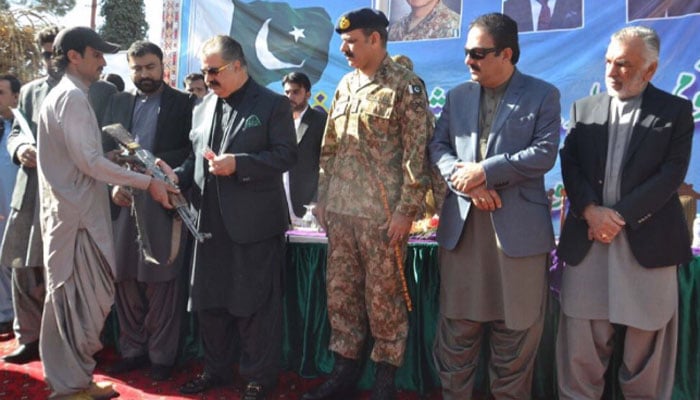 The patriotic Balochs continue to reintegrate voluntarily in the mainstream society, rejecting foreign sponsored terrorism in Balochistan, tweeted Inter Services Public Relations Director General Major General Asif Ghafoor.
In a post on Twitter, the DG ISPR stated that self-realisation by misled Balochs reflected the success of relentless efforts made by the civil and military leadership toward prosperity in Balochistan.
Earlier on Saturday, more than 300 members of different banned outfits, including 17 commanders, surrendered their arms. This took place at an event in the Balochistan Assembly building.
The event was attended by Balochistan Chief Minister Sanaullah Zehri and Commander Southern Command Lieutenant General Asim Saleem Bajwa among other civil, military leaders.
The rebel militants came one-by-one to the stage, handed over their weapon and were given Pakistan's flag and a flower in return.
While addressing the ceremony, Zehri remarked that people who will disrupt the peace process in Pakistan will be taken to task.
Referring to the rebel militants who surrendered their arms, Zehri remarked that the decision to surrender arms will prove to be beneficial for them. "You will no longer be used for fulfill plans of others," he said.
"You will be respected like other citizens of Pakistan and Balochistan. The government will fight for your rights, provide you financial assistance, and ensure that your children are educated," he assured the rebel militants.
The event followed numerous other ceremonies held in different parts of Balochistan during which hundreds of militants have surrendered, including militant commander Balkh Sher Badeeni who surrendered in January this year.