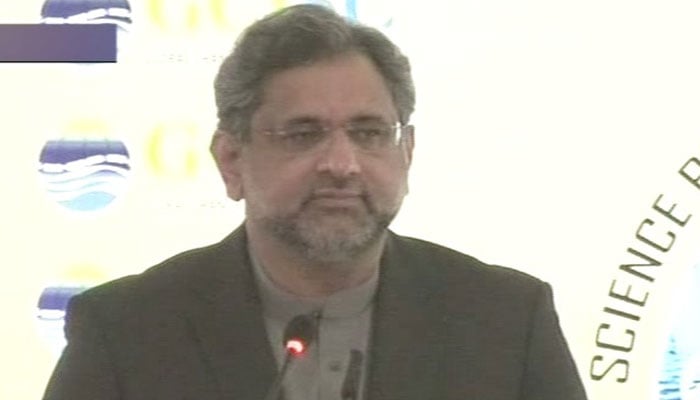 ISLAMABAD: Prime Minister Shahid Khaqan Abbasi on Monday said the country will stop importing furnace oil from next year, as industries which ran on furnace oil begin to be shifted to gas. 
Addressing the Global Change Impact Studies Centre's (GCISC) Climate Change Conference here earlier, PM Abbasi said Pakistan remains committed to playing its role in global efforts for tackling the issue of climate change, and is following the principles therein to reduce the greenhouse gas emissions by 20 percent.
The Prime Minister said climate change has become one of the biggest challenges for mankind today and has united the international community for action against its hazards.
The three-day international conference on climate change is expected to attract more than 140 scientists from all over the world to present their latest research papers.
More than 200 stakeholders from various groups, government officials, businessmen, civil society members, media persons, lawyers, parliamentarians and affected communities have registered themselves for participation in the conference to share their views and experiences.
The event will provide an initial mapping of efforts being undertaken to alleviate the impacts of climate change, assessment of knowledge and capacity needs and priorities that better reflect the Pakistani development context, and a stimulating environment with the intention to yield innovative ideas and grounds for implementation.

The moot will highlight the need for improved climate-related research and information for Pakistan, as well as help prepare policy recommendations to address climate change challenges affecting the country's development, promote coordination among researchers and institutions working on different aspects of climate change in Pakistan, and facilitate their collaboration with international scientists and experts engaged in research activities.
Pakistan is among the top ten most affected countries on the Global Climate Risk Index (CRI, 2016), and currently faces a number of climate-related challenges, including rising temperatures, unpredictable changes in precipitation patterns, increased frequency and intensity of extreme weather events, recurring droughts and floods, groundwater pollution, rising sea levels, potential for heightened conflicts over water rights between riparian regions, increased health risks due to changes in disease vectors, environmental degradation, especially of water-related ecosystems, declining agricultural productivity, and governance issues associated with these stresses.