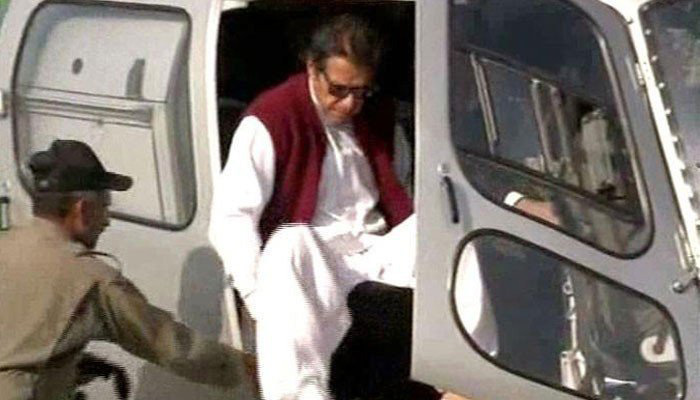 PESHAWAR: The National Accountability Burea (NAB) on Wednesday summoned FATA's former secretary of administration Hassan Muhammad Yousufzai today for its probe into Imran Khan's use of government helicopters.
Yousufzai, who is presently serving as FATA's law and order secretary, will record his statement later today, according to sources in NAB.
He had been serving as the secretary of administration when Imran had allegedly used the government helicopters for personal trips.

The Civil Aviation Authority and Administration Department had previously submitted their records to the bureau.
On March 8, sources had informed Geo News that Khyber Pakhtunkhwa (KP) wing of NAB had obtained details of Imran's use of government helicopters from the provincial administration department and the purchase agreement for the helicopters.
The inquiry 
The NAB Chairman Justice (retired) Javed Iqbal on February 2 had directed the bureau's KP director general (DG) to conduct an inquiry into Imran's reported use of the KP chief minister's official helicopters.
On January 29, Geo News had reported that the KP government spent millions of rupees on Imran's use of the provincial government's helicopters.
Documents obtained by Geo News from the KP administration department showed that the PTI chairperson used the KP government's helicopters free of charge for a total of 74 hours to travel approximately 18,000 kilometres.

The provincial government recorded in its books a total expense of Rs2.1 million at approximately Rs28,865 per hour for Khan's 40 trips on the two helicopters — an Mi-17 and an Ecureuil.
Similar trips using a private helicopter would have cost the PTI chairperson tens of millions of rupees, according to estimates.
Khan used the Mi-17 for 21 hours 50 minutes on 12 trips amounting to a recorded expense of Rs1,270,307.
Similarly, he used the Ecureuil helicopter 28 times for a total of 52 hours and 5 minutes, amounting to a recorded expense of Rs836,875.
Combined, Khan used both helicopters for a total of 73 hours and 55 minutes, resulting in an expense of Rs2,107,181 recorded by the provincial government.
The PTI chief, whose party governs Khyber Pakhtunkhwa province, used the helicopters to fly to and from Bani Gala, Islamabad, Mardan, Peshawar, Abbottabad, Haripur, Swat and Nathiagali, Kohat, Batagram, and Chakdara, among other places.
In its documents, the administration department mentioned the purpose of the flights as "official use and urgent nature of work".