ISLAMABAD: Malala Yousafzai, the Pakistani Nobel laureate and education activist, arrived in Pakistan early Thursday morning, more than five years after she left the country following an assassination attempt by the Taliban in 2012.
Yousafzai's Emirates' EK-614 flight landed at Benazir Bhutto International Airport at 1:41 AM (approximately 16 minutes after the scheduled time). She was moved to a local hotel amid strict security after her arrival.
Yousafzai, 20, is expected to hold meetings with Prime Minister Shahid Khaqan Abbasi and Army Chief General Qamar Javed Bajwa, as well as other important figures.

A visibly happy Yousafzai, garbed in traditional Pakistani shalwar kameez and dupatta, could be seen at the airport with her parents. She received a warm welcome in her homeland and greeted her hosts with smiles.
The education activist, who was accompanied by her parents and CEO of Malala Fund, will participate in the 'Meet the Malala' programme during her stay in Pakistan. She is expected to stay in Pakistan for four days but the details of her trip have been kept secret "in view of the sensitivity", an official told AFP news agency.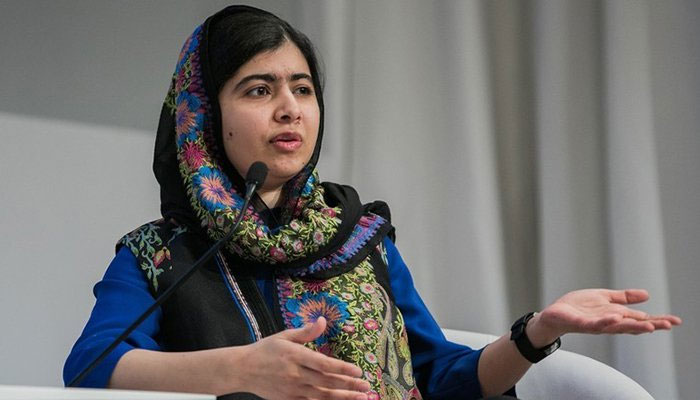 In October 2012, Yousafzai — then 15 years old — was shot in the head at point-blank range by Taliban gunmen as she was returning from her school in Swat valley.
She suffered bullet injuries and was admitted to the military hospital Peshawar but was later flown to London for further treatment.

The shooting drew widespread international condemnation.

She has become an internationally recognised symbol of resistance to the Taliban's efforts of denying women education and other rights.
In 2014, Yousafzai became the youngest recipient of the Nobel Peace Prize at the age of 17 in recognition of her efforts for children's rights.
'Want to go back to Pakistan'
Asked about her plans for the future while speaking at the World Economic Forum (WEF) session — titled "An Insight, An Idea with Malala Yousafzai" in January 2018 — the 20-year-old said: "I hope that I can go back to Pakistan sometime and see my country.

"It is just so hard if you haven't seen your home, your relatives, your friends for more than five years," she said, adding, "I didn't leave the country by choice it was the circumstances that forced me. So I want to go back to Pakistan."
Malala also remarked that her father wants her to complete her Masters and PhD and "stick to university". However, she shared that she wants to explore more.
In March 2018, the Nobel laureate appeared on My Next Guest Needs No Introduction with David Letterman on Netflix.

Speaking of Swat, her hometown, Malala stated: "It is just like a paradise on Earth."

She said she "did not realise how beautiful Swat was" until she moved to the UK "and looked out the window and asked where the mountains were."
As to whether she would return to Swat, Malala said: "I haven't been back to Swat since I was attacked. Unfortunately, it's been a very difficult time. I tried to go but I didn't find the right time.
It has not been confirmed whether she will visit her family's hometown of Swat.
She added: "I have received a lot of support in my country. There is this lust for change. People want to see a change in their country.

"I am already doing work there but I want my feet to touch that land."