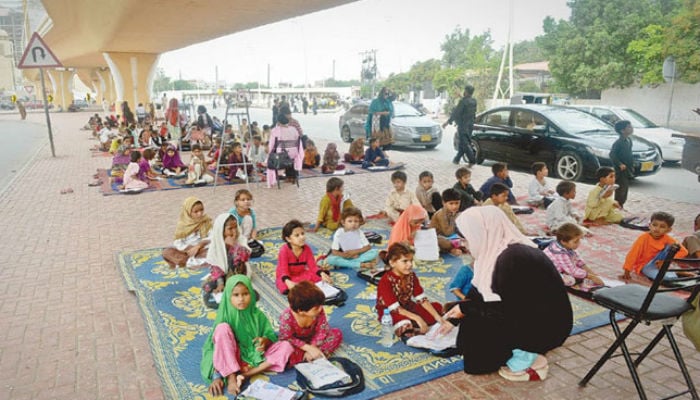 KARACHI: The Supreme Court Karachi Registry gave a deadline of one week to Sindh government and education department to resolve the matter pertaining to footpath school in Clifton area of the metropolis.
The apex court ordered that the matter should be resolved within a week and a detailed report submitted to the court.
Syeda Anfas Ali Shah Zaidi, who has been running the Footpath school near the Abdullah Shah Ghazi shrine in Clifton for the past three years, has accused the Sindh Education Foundation managing director Naheed Durrani of making the alleged threats, asking them to close down the school within two days.
Hearing the suo motu case on Saturday, the Chief Justice of Pakistan Justice Mian Saqib Nisar remarked: "The children should not study on footpaths. The future of the children is extremely important for us. I don't want the children to continue to study on footpaths."
The petitioner Zaidi told the court that she has not gotten the support of anyone. She shared that about 600 students study in the school and about 150 are learning martial arts. "I am teaching students to pick up trash."
The CJP ordered that a building should be constructed and adequate facilities be provided to the children. 
The school in question, situated under Bahria Icon Tower flyover in Clifton area of Karachi, reportedly received threats for closure by the Sindh government.

On February 17, the chief justice had forbade action against the footpath school in Clifton area until alternate space is provided for its relocation.
Chief Justice Saqib Nisar heard the suo motu notice at the Supreme Court's Karachi Registry on the Sindh government's alleged move to shut the school down.
During the hearing, the CJP observed that the Sindh Education Department should not nag the concerned administration for the closure of the school. Instead, he stated, the school should be provided with all the necessary facilities.