PARACHINAR: The residents of Shalozan village in Kurram Agency have requested the government to declare their area a disaster zone after week-long rain and hailstorm destroyed crops and damaged houses there.
While talking to Geo.tv, farmers in Shalozan said they were at a loss now that their crops were destroyed as they would not be able to earn an income to pay back the loans they had taken to buy seeds and other relevant material.
The farmers were of the view that if the government declared the area a disaster hit zone, they would be able to get aid that could help them repay loan in case of loss and repair their damaged houses.
The losses rattled farmers because growing crops and earnings from harvest is the only way of making an income for many in Shalozan. They would take loan to arrange for seeds and pay back after selling the fruits, vegetables and grains that grow on the land.
Since the weather condition was harsher this time, not only were the crops destroyed, lightening and strong winds damaged houses, claiming lives.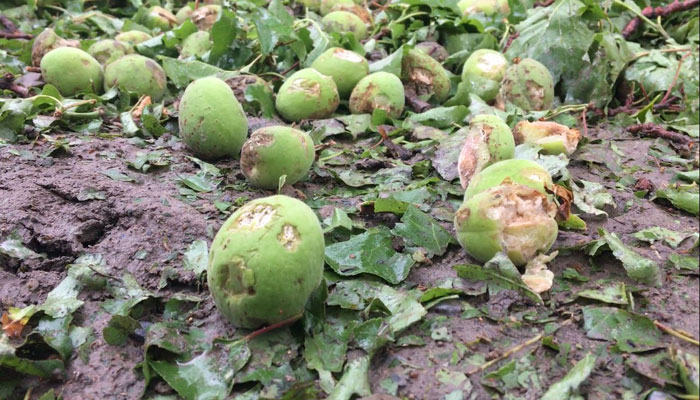 At least four people, including a student and three FC personnel, died in Kurram Agency during the week-long downpour.
Besides damaging houses and destroying crops, rain also overflowed Kurram River due to which water was transported over arable land on the riverbank. Other than Kurram River, the small lakes formed naturally in different areas of the agency are also contaminated by sewage water that rain carried.
Shalozan's is an arable land where various crops are grown and distributed across Pakistan. Most famous are apples and tomatoes of the village. Apples from Shalozan are not only known in Pakistan but are also sent to different countries, and are always in demand for their scent and taste. People keep these apples in their cars and rooms as it leaves behind a pleasant aroma.
There are various farms situated in Shalozan, one of them called Robert Farm is with multiple apple trees.