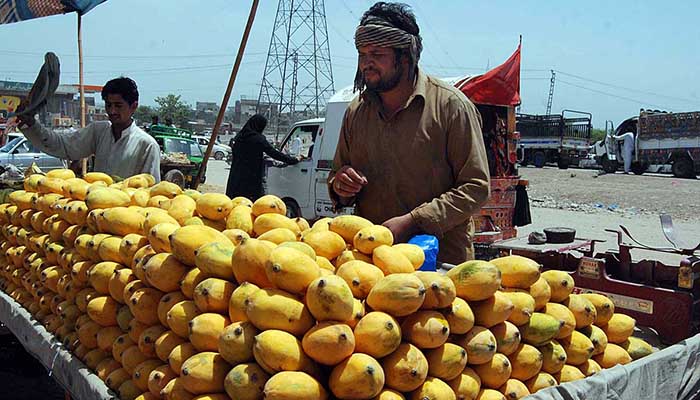 Temperatures are soaring across the country and you can already say that summer in Pakistan is in full swing. While the heat may be unbearable, summer does signal in the start of mango season in the country.  

Known as the King of Fruit, mangoes are highly popular among Pakistanis. The fruit is high in fibre, low in calories and contains a small amount of carbohydrates, calcium, iron, potassium and a little protein. Mangoes are also rich in vitamins A, B and C. 
Considered one of the sweetest fruits in the world, mangoes come in several varieties. 
Chaunsa 
The Chaunsa mango of Pakistan is one of the worlds' top available varieties. Chaunsa is a variety of mango grown in different parts of the world, but it is originally from Rahim Yar Khan and Multan in Punjab.
It is an exceptionally sweet mango with a wonderful fragrance and deliciously soft, succulent flesh with only the minimum of fibre.
Sindhri 
Sindhri is a leading variety of mango from Sindh.  It is a large oval shaped mango which is extremely sweet and aromatic.  Its origin is from Mir Pur Khas.
Langra 
This mango is fibreless and yellowish brown in colour with a strong smell when it ripens.  Compared to other varieties of mangoes, it is naturally very sugary and soft.
"Different varieties of mangoes grow in different parts of the country, and consumers have a very strong affinity for the varieties that grow in their home region," said shopkeeper Zia Muhammad

"Mango is my most favourite fruit during the [summer] season as Pakistani mangoes have more than 400 varieties and are considered one of the best in the world," Ali Azam a customer claimed, adding that "the most popular commercial varieties are different in colour and sizes and have distinct flavour and taste".
Besides their sweet, delicious, and irresistible taste, mangoes also have many health benefits.

Nutritionist Asma Iman said mangoes not only help lower cholesterol and improve eye health, but they also help prevent cancer.
Scientists have discovered that the antioxidants in mangoes are linked to protecting against breast, colon, prostate cancers and leukaemia.
Mangoes also help alkalize our bodies, which is important considering how much we sweat during summers, fight chances of heat stroke and improve our digestion.