KARACHI: The sweltering heatwave that struck the metropolis earlier this week finally relented on Thursday as sea breeze began to blow again, bringing down the mercury by 3-4°C.

After four days of above 40°C heat in Karachi, the maximum temperature will hover in the 38-40°C range today, the Pakistan Meteorological Department said in its daily forecast.
The weather monitoring body predicts maximum temperature of 37-39°C on Friday, and 36-38°C on Saturday.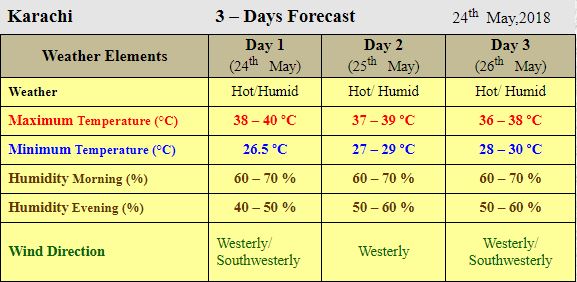 The temperature had soared to 44°C on Monday and continued to hover around 43°C on the past two days, tormenting the residents as they suffered through the heat and yet another spate of load-shedding.
Sehri in the dark
Load-shedding persisted in multiple localities of Karachi, with many forced to eat sehri meal in the dark.
Liaquatabad C1, Malir, Saudabad were among the areas that suffered power outages despite repeated assurances by K-Electric that the load-shedding would relent after its Bin Qasim power plant started generating electricity again.
Areas facing line losses continue to be subjected to more than seven hours of load-shedding.
The city's sole supplier of electricity had said last Saturday it would try its best not to carry out load-shedding during sehri and iftar timings, adding that people should not label technical faults as load-shedding.