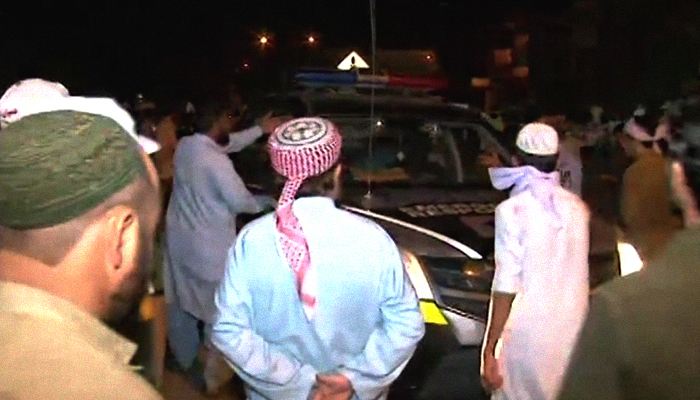 ISLAMABAD: A scuffle erupted Wednesday night here between workers of the Muttahida Majlis-e-Amal (MMA) and the law enforcement agencies (LEAs) wherein both parties offered different explanations of the same event, Geo News reported.

Jamaat-e-Islami Pakistan (JI) leader Mian Aslam, a candidate representing the MMA, alleged that police opened direct fire at his party's camp last night as authorities attempted to forcibly shut it down.
The Election Commission of Pakistan (ECP), Aslam — who is contesting from the NA-53 and NA-54 constituencies — urged, should take a notice of the said incident, as he claimed that his political party was not being allowed to run their campaign freely.
A spokesperson for the JI alleged that police had opened fire when workers resisted LEAs' attempt to shut down their electoral camp. The party members consequently blocked a road in the capital city's Sector G-10 area.
According to police, on the other hand, their officers only resorted to aerial firing. They asserted that music was being played on the MMA's loudspeakers.
After receiving numerous complaints in the "safe city" from the area's citizens, a police officer was sent to inform those present at the MMA camp to stop the music. According to police, however, the officer was threatened and manhandled and opened fire in self-defence.
Nevertheless, the police officer was suspended and an inquiry was subsequently launched in this regard.