BANNU: Jamiat Ulema-e-Islam-Fazl's (JUI-F) leader Akram Khan Durrani's vehicle was fired at on Sunday, according to the police. 

Durrani was en route to an election meeting in Basia Khel when shots were fired at his vehicle by unidentified suspects, who escaped after the attack, the police informed further. 
No one was injured in the incident.
Sources said the JUI-F leader's vehicle was a bulletproof SUV and thus the bullet could not penetrate the windshield and reach its target. 
Durrani is contesting the July 25 election on a Muttahida Majlis-e-Amal ticket against Pakistan Tehreek-e-Insaf Chairman Imran Khan from NA-35 (Bannu). 
The JUI-F leader's convoy was also attacked on July 13 in Bannu while he was leaving an election rally, resulting in the death of four people and injuries to several others.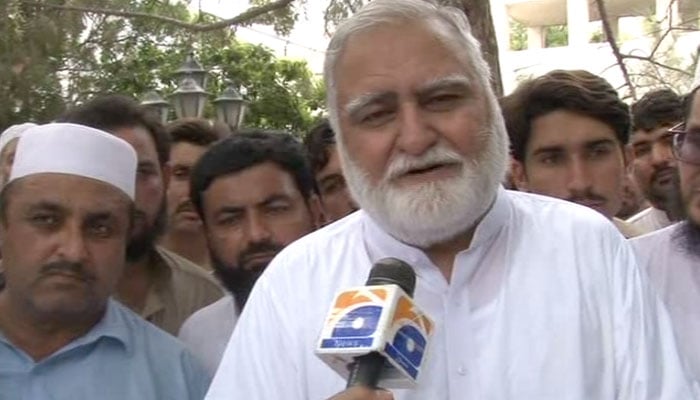 Speaking to reporters after the attack, Durrani had said the blast took place near the tire of his jeep when he was passing through Haved Bazaar after addressing an election rally. 
Following the blast, Durrani arrived at the hospital to tend to his supporters.

"The police and security agencies had told me about the security threats," he told Geo News.

"I remained safe but four of my allies have been martyred," he remarked.
Durrani has served as the federal minister for housing and works in the last federal government and is also a former chief minister of Khyber Pakhtunkhwa.
Electioneering marred by violence
A spate of terrorist attacks has taken place in the current month. On July 10, a bomb targeted a rally by the Awami National Party (ANP) in Peshawar, martyring local party leader Haroon Bilour along with 21 others.
An attack on a Jamiat Ulema-e-Islam-Fazl (JUI-F) convoy in Bannu on July 13 followed the tragic Peshawar incident. The Bannu incident claimed lives of at least four people, while 10 others were injured in the explosion.
Later the same day, one of the deadliest terrorist attacks in the country's history took place which claimed the lives of over 150 people. Balochistan Awami Party (BAP) candidate Nawab Siraj Raisani was among the martyred when a suicide bomber blew himself up during Raisani's election rally in Mastung's Darengarh area.
A week after the Mastung blast, on July 16, ANP leader Daud Khan Achakzai was injured after unidentified persons opened fire on the guest house of the party's candidate Zmrak Khan Achakzai in Chaman.

Meanwhile, Pakistan Muslim League-Nawaz leader and former federal minister Sheikh Aftab Ahmed's vehicle was fired at in Attock as was the convoy of former prime minister Yousaf Raza Gilani's son Ali Musa in Multan recently.