Exposure to fake news is on the rise around the globe and Pakistan is not safe from it either as people are increasingly falling prey to false stories which keep emerging on the latest topics.

Recently, social media was abuzz with reports that Pakistan-born American billionaire Shahid Khan, Facebook CEO Mark Zuckerberg, Microsoft founder Bill Gates and former president Pervez Musharraf were donating to the Diamer-Bhasha and Mohmand Dam fund.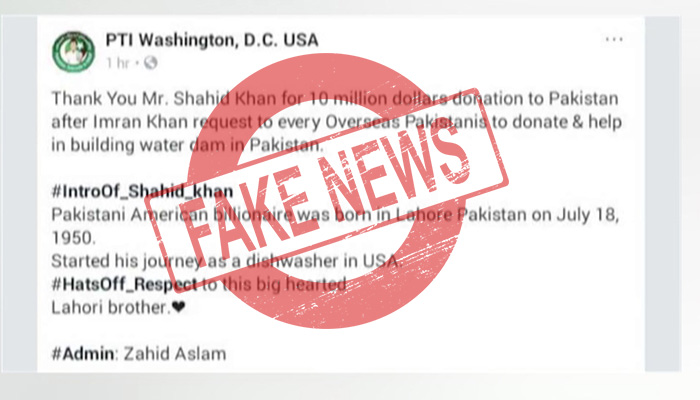 First fake news that Khan who owns football club Fulham and NFL's Jacksonville Jaguars was donating $1 billion and then $10 million to the dam fund went viral.
However, Shahid while speaking to Geo News denied such reports.

Similarly, it was found that the reports regarding Zuckerberg, Gates and Musharraf's donations were also fake.
The chief justice established a dam fund in July this year to raise money for the construction of Diamer Bhasha and Mohmand Dam.

Earlier this month, Prime Minister Imran Khan appealed to overseas Pakistanis to contribute to the dam fund.
"I urge overseas Pakistanis to contribute to this fund. If every overseas Pakistani contributes to this we will be able to construct the dams and our reserves will also improve," the premier said while urging Pakistanis in Europe and the US to contribute at least $1000.
Several, including cricketers and celebrities, have donated to the dam fund.