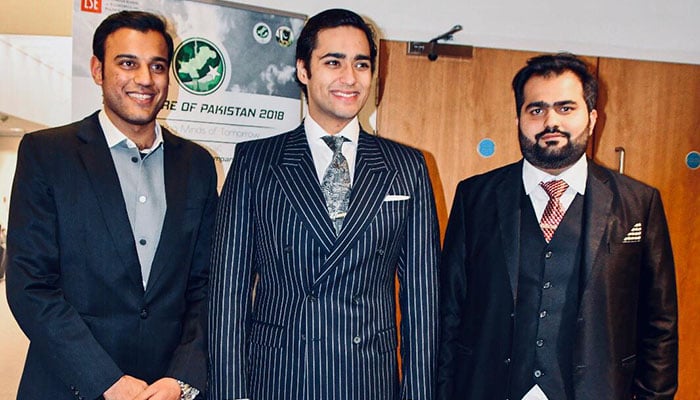 LONDON: Nawaz Sharif's grandson and Maryam Nawaz Sharif's son Muhammad Junaid Safdar has enrolled as a masters degree student at the Political Science's International Relations department in the London School of Economics (LSE).
Junaid Safdar will be studying MSc International Relations at the prestigious LSE for one year. Junaid Safdar returned from Pakistan in October this year to start his Master's degree after spending nearly three months in Pakistan where he remained busy in political activities around the election campaign.
Junaid Safdar has previously studied MSc Global Governance and Ethics from University College London (UCL). He has obtained a bachelors degree in Politics from Durham University with a 1st class honours.
A source at the LSE confirmed that Junaid Safdar missed a few weeks of his first term due to the demise of his grandmother, Begum Kulsoom Nawaz, but is now enrolled in the course and frequently attends classes. An official of the LSE's Pakistani Students Society said that Junaid Safdar is also actively taking part in events and activities organized by Pakistani student societies around campuses of London's college and universities.
This week a video emerged on social media which showed Junaid Safdar reciting Arifana kalam (Saiful Muluk), Sufi saint Mian Muhammad Bakhsh's poetry, at the University College London's annual Qawali night. Junaid Safdar recited sufiana kalaam in memory of his grandmother Begum Kulsoom Nawaz who passed away two months ago after losing a battle to cancer.
There were speculations that the PML-N is considering launching Junaid Safdar into politics after his grandfather Nawaz Sharif and parents Maryam and Captain Safdar were jailed at the end of July this year but it's understood that his parents have told him to stay out of politics till the completion of his studies.
Junaid was briefly detained by the police, along with cousin Zakaria Sharif, on 12 July when they got involved with a group outside the Avenfield flats when the group tried to enter the flats and assaulted the duo. The fight broke out soon after the former prime minister and Maryam Nawaz left for Pakistan from the Harley Street clinic where Begum Kulsoom Nawaz was receiving treatment for cancer.
Scotland Yard investigated the case for three months and decided to not take action against Maryam Nawaz Sharif's son Junaid Safdar and Hussain Nawaz's son Zakaria Sharif. The police said that no further action will be taken because they had acted in self-defence after being attacked.