TEHRAN: Iran's President Hassan Rouhani and visiting Pakistani Prime Minister Imran Khan agreed on Monday to set up a joint border "rapid reaction force" to counter terrorism.

The understanding came at a meeting between the two leaders in Tehran earlier today. Prime Minister Imran Khan is on an official two-day visit to Iran, his first visit to the country since assuming the office. 
Addressing a joint news conference later, the Iranian president said it was unfortunate that the two countries had witnessed tensions in the border areas in the recent past, where the terrorists had perpetrated their nefarious acts. 
He said both the sides reaffirmed their commitment to peace and security in the entire region, during the talks.
The premier said that the Kashmiri people are deprived of their right to self-determination, and the Kashmir resolution will bring prosperity to the region. 
"Iran will get access to the Indian market. Palestine and Kashmir issue should be resolved by dialogue. We want bilateral trade with Iran, we want to benefit from the Iranian experiences in science and technology, healthcare and energy," he said.
Prime Minister Imran Khan, addressing the press conference, said Pakistan has resolved not to allow any militant group to operate from its soil. 
"We have been facing [impact] of terrorism since long. In Pakistan, we have suffered more terrorism than probably any other country. In the past [few years] we have lost around 70,000 people. Full appreciation must be made for our security agencies, with the way they tackled terrorism in Pakistan," the premier said. 
"We are committed to not let it happen again. We will not allow any militant group to operate from our soil. We will not allow our soil to be used by anyone against anyone."

"I felt that the issue of terrorism was going to increase differences between Pakistan and Iran. So it's very important that we [resolve] this issue," he added. 

On the ongoing peace talks in Afghanistan, Prime Minister Imran said peace in the war-ravaged country was in the interests of both Pakistan and Iran. 
"We will cooperate with each other in helping bring a political settlement in Afghanistan," he said.
"Without justice there is no peace. Huge injustice is being done to the Palestinian people. Israel's decision to occupy Bolan and make Jerusalem its capital is against international norms. Similarly, atrocities being done to the Kashmiris are condemnable," the premier added.
He stressed that peace and stability in the region could only come from dialogue, not military might. "We hope there will be a peaceful political settlement in Kashmir."
Recalling his visit to Iran while he was still studying, Prime Minister Imran said he appreciated how Iran has become a very egalitarian society. 
"This should be appreciated. This is what the Iranian Revolution did. This is what we envision as Naya Pakistan. We want to see the divide between the rich and the poor in Pakistan reduce, like it has reduced in Iran," the premier noted.
On a lighter note, he remarked, "If the British had not colonised the subcontinent, we wouldn't be needing an interpreter because all of us would be speaking Persian, [which had long been the court language in the subcontinent]."
'Iran ready to meet oil and gas requirements of Pakistan'
Iranian President Rouhani said his country is ready to meet the oil and gas requirements of Pakistan, adding that Iran has already taken measures to construct a gas pipeline to the Pakistani border.
He said Iran is also ready to increase exports of electricity to Pakistan.
Emphasising that "no third country can harm the brotherly and close relations between the two countries", Rouhani said the two sides agreed to bolster their trade and economic relations and to set up a barter committee so that goods and other items could be exchanged.
The president said Iran is also interested in establishing links between Gwadar and Chahbhar ports in order to strengthen the bilateral trade relations.
The two sides also signed a memorandum of understanding for cooperation in the health sector.      
Prime Minister Imran and Iranian President Rouhani also held talks at the Saadabad presidential palace in Tehran earlier today.
The two leaders discussed bilateral relations, regional issues and ways and means to further bolster their relations in diverse fields.
Prime Minister Imran was also presented with an official welcome upon his arrival at the Saadabad Palace.
The premier will also call on Iran's Supreme Leader Ayatollah Seyyed Ali Khamenei, and meet Pakistani and Iranian business community during the visit.
The prime minister landed at the Tehran International Airport on Sunday, where he was warmly welcomed by Iranian Health Minister Dr Saeed Namaki. A smartly turned out contingent also presented him a static salute.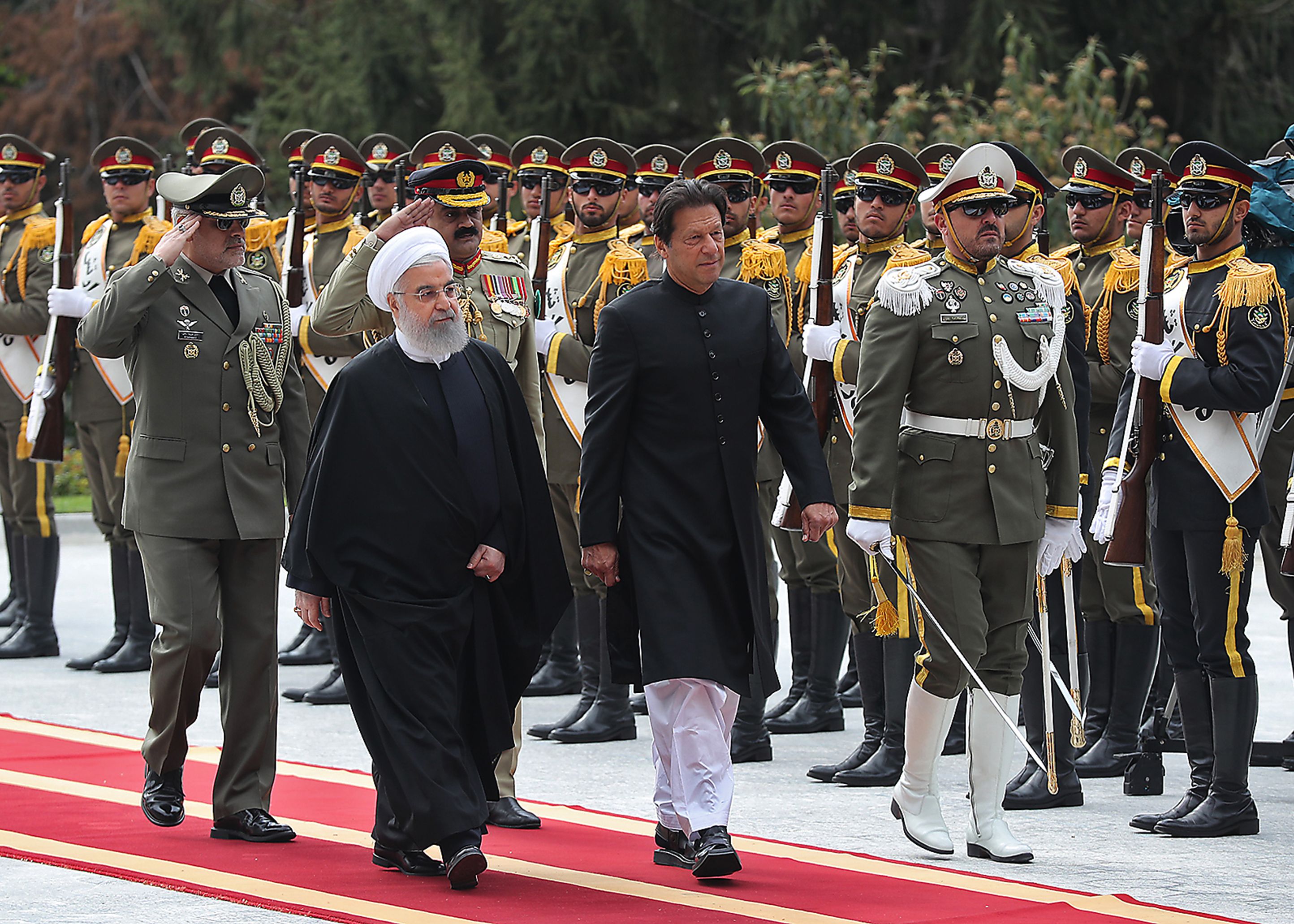 Prime Minister Imran is accompanied by a delegation comprising Minister for Human Rights Dr Shireen Mazari, Minister for Maritime Affairs Syed Ali Haider Zaidi, Adviser on Commerce Abdul Razak Dawood, Special Assistant on Overseas Pakistanis Zulfiqar Bukhari, Special Assistant on National Health Services Dr Zafarullah Mirza and Special Assistant on Petroleum Nadeem Baber.
Earlier, the premier arrived in Mashhad for a brief stop-over on his way to Tehran, where he visited the shrine of Hazrat Imam Raza and offered dua and nawafil.
PM Imran's visit to Iran, the first since he took office last year, comes days after gunmen shot dead 14 people, including Pakistan Navy personnel, near Ormara in Balochistan.
On Saturday, Foreign Minister Shah Mehmood Qureshi said Islamabad had evidence the "terrorist outfits" that carried out the attack have "training and logistic camps inside Iranian areas bordering Pakistan".