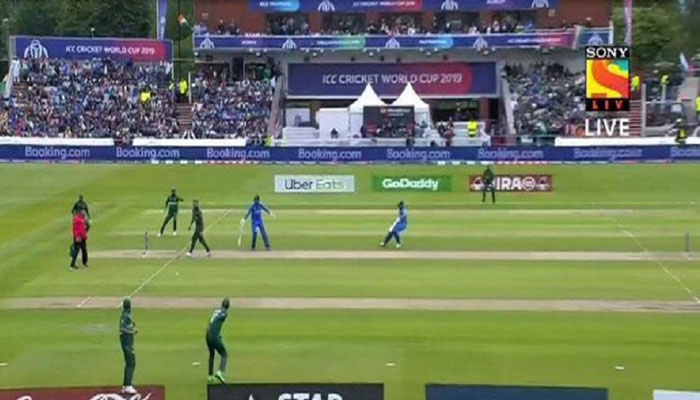 The devastating 89 runs loss against India on Sunday has raised questions on Pakistan team's performance in all three departments. Terrible fielding allowed India to set an insurmountable 337-run target - a target which has never been chased down in the World Cup before. 
The biggest lapse in the fielding was made by Fakhar Zaman when both Indian batsmen stuck almost on the same end but rather than throwing the ball to the keeper, he threw it to the bowler's end. 
It was an opportunity to send Rohit Sharma back to the pavilion in the early part of his innings. Opportunity Missed. But lady luck came again for Sarfaraz's men when Shadab at covers had the opportunity to run him out as Rohit was well-out of the popping crease. The throw was inches off target. 

There was no third chance. Rohit built his innings and smashed 140 runs. 
The fielding lapses were not only restricted to Rohit Sharma. The fielders gave away easy singles to the Indian batsmen even during the time when openers KL Rahul and Sharma were struggling to maintain clean running between the wickets.
In such a high voltage match, fielders are supposed to put extra efforts in by stopping certain runs and by converting half-chances into the full one. Where at one end Mohammad Amir restricted India, all it required was good support from the other end complimented with top-notch fielding - neither were there. 
There are four more games left to be played. All is not lost. All that we need is momentum but to bring it on, the Pakistani team has to sort out its lapses - especially the fielding one. And its obvious to say that it would be naive to think that we will sail through without addressing them.