PESHAWAR: Over 100,000 trees have been burned down in wildfires in the Khyber Pakhtunkhwa province, officials said on Monday.
In the last two months, close to 90 forest fires were reported in different parts of the province. Most of the trees gutted were planted during the Billion Tree Tsunami campaign by the Pakistan Tehreek-e-Insaf government in the last two years.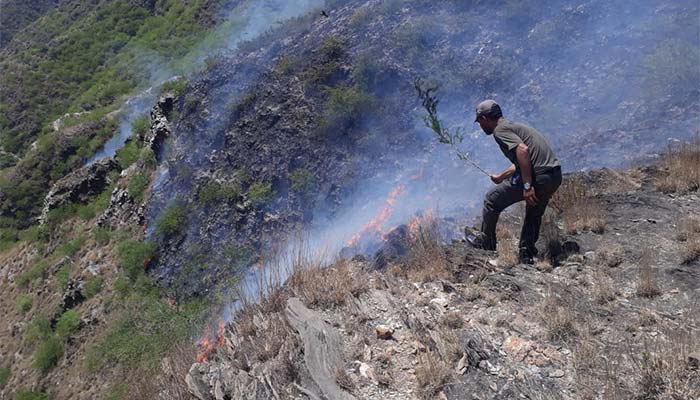 "We have yet to conduct a complete survey of the damage," Muhammad Themasip, project director of the Billion Tree Tsunami, told Geo.tv. "Wildfires in the forests is not new. Last year, six people died due to it."
The Billion Tree Tsunami, an afforestation project, was launched in 2014 to restore forests and green cover in the province.
Officials, who spoke to Geo.tv on the condition of anonymity, said that over 100,000 trees planted during the campaign have now been lost and more could be burned if the wildfires are not controlled.
The wildfire erupted after individuals deliberately set bushes and trees on fire in Mardan, Swabi, and Swat areas of the province.
The Khyber Pakhtunkhwa government called in the help of Rescue 1122 and the military to douse out the fires.