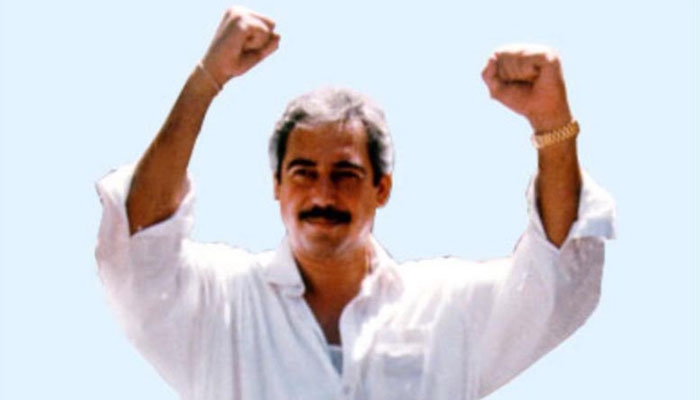 From Zulfikar Ali Bhutto to Benazir, from Murtaza to Shahnawaz, Bhuttos died unnatural deaths. Mystery has engulfed the family's story. From defiance and resistance to bad governance, politics in Pakistan has revolved around this family for half a century. In many ways, the Bhuttos resemble the Gandhis of India.
The family's trajectory has been marked by irony and tragedy. The most tragic event was the assassination of Mir Murtaza Bhutto, during the government of his beloved sister Benazir Bhutto, who was the prime minister at that time. She herself was shocked, not only because she loved Murtaza a lot, but more importantly because the police action that resulted in his murder was in complete violation of her specific instructions regarding handling of Murtaza's guards. Sardar Farooq Leghari, the president she had nominated, dismissed her government on the same pretext.
"No, I don't want Murtaza to be hurt. If you want to arrest his guards wait till he is out of city," were the specific instructions of prime minister to her interior minister, Naseerullah Babar passed on verbatim to the Karachi police chief at the time, Dr Shoaib Suddle. Babar had asked the former prime minister, her permission to arrest Murtaza's guards as he felt pressure from the opposition, particularly the MQM, several of whose member had been killed in 'fake encounters'.
Yet, Murtaza was killed in a controversial 'encounter' near his 70 Clifton residence.
"But, I told you to arrest them or disarm them when Murtaza is out of the city. Why was my order not followed?" Benazir had asked, according to a source in a meeting called after Murtaza's assassination.
Babar replied that on the fatal day, police had not stopped Murtaza's car. His guards were stopped after his car had entered 70 Clifton. After party workers informed him about the arrest, he came out and was shot just as he rushed back in.
Babar defended the police action and so did Suddle. After the arrest of Ali Sunnara, Murtaza's close aide, the PPP (Shaheed Bhutto) leader came to the police station, and tried to forcibly secure the release of his comrade. Sunnara was killed two years after the murder of Murtaza and police closed his file categorising it as a 'blind case'.
Benazir was not convinced.
The meeting ended on the note that an independent judicial commission would be set up. It would be headed by (retd) Justice Nasir Aslam Zahid. The commission, in its recommendations, stated clearly that the police action had not been just an 'encounter'.
In one of my conversations with Benazir Bhutto, after some time had passed, she disclosed that even she had been 'misled' during the investigation. "I was shocked at how even top agencies could mislead the chief executive. This is exactly what happened in this case," she stated.
The photographs of the car in which PPP (SB) leader Ashiq Jatoi and others were sitting did not match the one which was actually hit, she added. Later, Shoaib Suddle confirmed that BB did raise this question and that he personally took her to the police station where the car was parked as part of case property.
In one of the last serious attempts to help Murtaza and Benazir bridge their differences, a meeting of the family was held at Sindh Club. It was attended by Begum Bhutto, Benazir Bhutto, Ms Fakhri Begum and a few others in a bid to save the family from division.
23 years later, it is not known who killed Murtaza and why? All those accused in the two FIRs, one lodged against police officials which also led to the arrest of former president Asif Ali Zardari and one by the State against Murtaza's guards have been acquitted. The case remains unsolved.
I was at 70 Clifton along with other journalists to attend Murtaza's press conference. On September 20th, 1996, after addressing the press conference, he asked me and a few other colleagues to accompany him to a public meeting.
"I would have come had it not been my daughter's birthday," I said.
He congratulated me and said, "Better next time, Mazhar."
As I came out of 70 Clifton that day, I noticed some unusual activity by men dressed in plain clothes around the house. I told a journalist friend, Riffat Saeed, "Yaar, kuch garbar lag rahi hay" (Something's off). In the evening, while I was busy with birthday celebrations, someone informed me about the firing outside Bhutto's house.
Much has now been written on what happened including a few books on the murder as well as the case trial, but not enough has been said on the life and politics of the man.
Murtaza had led an armed struggle against former military dictator, General Zia ul Haq, from the platform of al-Zulfiqar Organisation, AZO. Benazir, on the other hand believed in political struggle as opposed to armed resistance. The two developed differences over strategy after Benazir went into exile in 1981.
The idea to form AZO, was conceived jointly by Murtaza and Shahnawaz on the pattern of PLO, as the two were inspired by freedom fighters like Laila Khalid. Shahnawaz was more emotional and accused the party's feudals of failing to save Bhutto's life. He even wanted to target them besides people like Zia, Moulvi Mushtaq and those who had a hand in the trial and conviction.
In 1986, when Benazir, decided to return after getting the 'green signal' from former prime minister, Mohammad Khan Juenjo, who despite Zia's anger lifted restrictions on media, she went to Damascus and asked Murtaza to abandon the armed struggle and join forces with her but he warned her about Zia's nefarious ways.
A year later, Benazir invited him to attend her wedding, assuring him that Prime Minister Junejo had no objection to Murtaza's return; even though some other quarters hinted towards his likely arrest in the PIA hijacking case.
Murtaza, declined politely, wished her the best for her personal and political life. He told her that he would only return after avenging his father's death.
Begum Nusrat Bhutto, who after the death of her husband ZAB, wanted Benazir and Murtaza to together take the political legacy of Bhutto forward, continued her efforts to unite the family but did not succeed.
During Zulfikar Ali Bhutto's trial, some PPP hardliners, after taking Begum Bhutto into confidence had formed the People's Liberation Front and the Bhutto Release Committee. When the party's Central Executive Committee failed to give a call for the movement, they decided that party workers would sacrifice themselves for the release of their leader. Incidents like the Jamma Cloth firing led to the arrest of several leaders who were also sentenced to death later.
Bhutto, during the trial at the Lahore High Court, had stopped both his sons from coming to Pakistan and participating in any kind of political activity. He had asked them to concentrate on their studies instead. Shahnawaz had wanted to come after the detention of Begum Bhutto and Benazir. He had sent a message stating that Murtaza would stay back but, Bhutto had stopped him from coming.
After the Supreme Court rejected the appeal, the frustrated and emotional Begum Nusrat Bhutto was advised by Ghulam Mustafa Jatoi to petition for clemency. Knowing her spouse well, she sought permission to file the appeal to Zia. One of the witnesses to that meeting at Adiala jail told me that he heard Bhutto almost shouting, "No way! Why do you people want me to die at the hands of history?"
Years later, Jatoi told me in an interview that he had gone on his own to meet Zia as a last bid to save Bhutto. "I did inform Begum Bhutto and told her that there was nothing wrong in making an attempt. She stayed silent. I went to meet him in the presence of General Arif. I have come to beg you to spare him and promised that along with his entire family, he will quit politics and live abroad as long as you are in power. Zia said that he would give a serious thought", he stated.

"As I came out after the meeting, given my reading of Zia, I knew it was all over for Bhutto", Jatoi added.
When Bhutto came to know about it, he got angry and sent a strongly-worded message to the party and the family to let him die and live on in history.
After the LHC judgment, he got a message from Col Gaddafi and Yasir Arafat, who wanted to save his life at all costs even if required sending their commandos.
A senior PPP leader, who visited Damascus on the demand of the three hijackers and doesn't want to be named, disclosed that Salamullah alias Tipu, Nasir Jamal and Arshad Ahmad called AZO a misadventure. The AZO gave the government and excuse for a massive crackdown on PPP.
Former test-cricketer Aftab Gul, once told me in an interview that all plans to aid Bhutto's release had been finalised but Bhutto had turned down offers. He was finally executed on April 4, 1979. His popularity has endured and he has remained Pakistan's most popular leader.
"Tipu, the mastermind, along with some other party activists, went to Kabul for armed training. But, the Afghan intelligence under Najeebullah's government asked him to wait for their clearance. But, instead of waiting, he executed the plan after police raided his house in connection with the murder an Islami Jamiat-e-Tulba, Hafiz Aslam at the Karachi University," Gul told me.
Amongst the three hijackers, Arshad was not even aware of the plan when Tipu and Nasir asked him to accompany them to Peshawar. Tipu was later executed for the murder of an Afghan national. The other two now live in two different countries having left Libya, in the post-Gaddafi era.
About his experience with Murtaza, he had recalled that he first met him after 54 of the party members were released on the demand of hijackers. "Only the under-trial communist leaders Jam Saqi, Prof Jamal Naqvi, Shabber Sher, Kamal Warsi, Suhail Sangi, Badar Abro, Amar Lal refused and resisted when they were forced to go by the authorities. They took the position that they believed in a peaceful struggle."
Gul remembers that all of them went to a hotel where Murtaza visited them in the evening. "It was my first face-to-face interaction with him. He talked about the AZO and then said whoever wanted to join the group had to go to Kabul. Others, he said, could stay in Syria or pick their destinations."
Out of the 54, some 28 joined the group and went to Kabul.
"Murtaza and Shahnawaz's main targets were Gen Zia, Justice Molvi Mushtaq and a few other general and judges – not PPP opponents. But some of the AZO men, on their own, killed some opponents of the party," he added.
"I don't think Chaudhry Zahoor Elahi was a target but Molvi Mushtaq was in the same car at that time," he said. A few failed attempts were made on General Zia as well – the most serious one was in Peshawar, in which a female party worker was arrested.
Former ISI chief, the late General Hameed Gul suspected AZO's hand in General Zia's plane crash but the case has remained unsolved till this day.
Later, many AZO activists got arrested, tried and executed including Nasir Baluch and Ayaz Samoo. Some faced long trials for hijacking, conspiracy, sedition. These included Murtaza, Shahnawaz, Masroor Ahsan (who was arrested in Dubai and was flown to Karachi in a special aircraft), Khalil Qureshi, Manzar Alam (who is missing till this day).
When Benazir Bhutto's first government came into power she ordered the withdrawal of all cases registered during Zia's regime. This case was also withdrawn; but within 48 hours, the Home Department, in a fresh notification, declared it open and deleted it from the list of withdrawn cases. The trial lasted 19 years, first in a special court and later in a sessions court. It ended in 2012, and all the accused were acquitted. Out of 250 prosecution witnesses around 15 had appeared in the court. All of them were policemen.
Murtaza abandoned his armed struggle, and in an interview, announced his return from exile. But not before he decided to distance himself from Benazir's politics and accused her spouse of trying to take over the party.
Begum Nusrat Bhutto was delighted. She had supported him throughout the days of armed struggle and his decision to lead the peaceful struggle presented an opportunity for the Bhuttos. Benazir offered Murtaza and his men party tickets but some of those around him, advised him against running. Sources say that Subok Majeed and Ghulam Ali Allana were among them. Benazir believed that there was a conspiracy to divide the PPP as well as the family and tried to convince Murtaza to run in the elections.
In one of the last serious attempts to help Murtaza and Benazir bridge their differences, a meeting of the family was held at Sindh Club. It was attended by Begum Bhutto, Benazir Bhutto, Ms Fakhri Begum and a few others in a bid to save the family from division.
Murtaza finally returned and formed his own PPP (SB) at a convention held outside 70 Clifton. But, he could not create a major split in the PPP; on win a seat other than his own.
At times Benazir believed that Murtaza had not been wrong in 1986, when he saw her return as a trap. At the same time, she strongly suspected 'hidden hands' behind his return in 1993 whose purpose was to split the party and the family.
Murtaza's differences with Asif Ali Zardari were also well-known – these differences have now been arguably transferred to the next generation and are very unlikely to end.
Benazir never returned to power after 1996. She was assassinated when she was about to get her third time in 2007 elections. With her death, the politics of the strong generation of Bhuttos came to an end.
The third generation stands divided and are carrying various legacies: Bilawal, Bakhtawar, Aseefa on one side; and Fatima, Zulfiqar Junior on the other side. Can they unite? Bilawal Bhutto is facing a dilemma both in politics, and in mending differences with his first cousins. Benazir's son, an emerging leader, carries not only the weight of the Bhutto legacy, but also the baggage of their past.
—The writer is the senior columnist and analyst of GEO, The News and Jang.  He tweets @MazharAbbasGEO  
Originally published in The News on Sunday