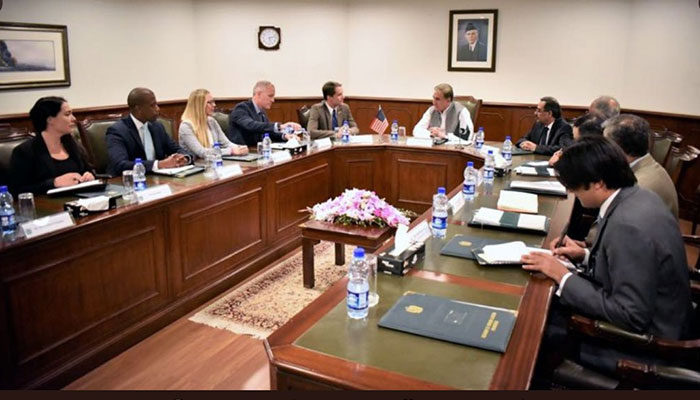 ISLAMABAD. Foreign Minister Shah Mehmood Qureshi on Tuesday urged two lawmakers from the United States to ask their country to play a constructive role in saving the lives of innocent Kashmiris from the ongoing Indian atrocities in the occupied territory.
Democratic Congressmen Jim Himes and Patrick Maloney, who are visiting Pakistan, called on the the foreign minister in Islamabad on Tuesday. During the meeting, the two parties discussed Pak-US relations, situation in Indian occupied Kashmir and matters of mutual interest.
Qureshi also informed the Congressmen that said Pakistan under its collective responsibility has been playing a constructive role in the establishment of peace in the region. 
He also emphasised that Islamabad gives special importance to its bilateral ties with Washington.

Earlier last week, Qureshi had said that the Indian government was gaslighting the international community into normalizing the de facto annexation of Indian-occupied Kashmir.
In an opinion piece for American news outlet CNN, the foreign minister warned that New Delhi was putting major US interests at stake with ethno-nationalist saber-rattling in the South Asian region.
"India's government wants to gaslight the international community into normalizing India's de facto annexation of the Muslim-majority state," Qureshi wrote in the opinion piece.
"..(India is) ethno-nationalist saber-rattling in a region with major US interests and international stability at stake," the minister warned, possibly alluding to the precarious security situation in Afghanistan.