KARACHI: The son of a newspaper hawker has secured first position out of 43,021 students in the intermediate commerce exams in Karachi.
Anas Habib, the top-position holder in the Higher Secondary School Certificate annual examinations 2019 Part-2 (12th class) Commerce group, achieved the top position with a score of 969 out of 1100.
Anas is a resident of Hussainabad, one of the neighbourhoods of Gulberg Town in Karachi, and a student of the North Nazimabad campus of Tabani's College. His father, Muhammad Habib, a newspaper hawker who daily comes to the Empress Market where he sells newspapers in buses, encountered several hardships while financing his son's education over the years.
"I own a newspaper stall near Empress Market, Saddar and I've been working as a newspaper hawker for 50 years," the jubilant father told reporters on Saturday.
"My son has fulfilled my dreams and made me proud," he said, adding that he did not compromise on his children's education despite facing several financial problems.
"I wanted him to become a doctor but he decided to take up commerce so, I supported him and now he is a position holder," said the father.
"I have always advised my son to work hard as he has to create a better future for himself," he added.
Anas expressed gratitude towards his teachers, parents and siblings, saying their hard work helped in his success.
"After Matriculation in Science, I thought of becoming a doctor, but gradually my mind diverted," Anas told reporters.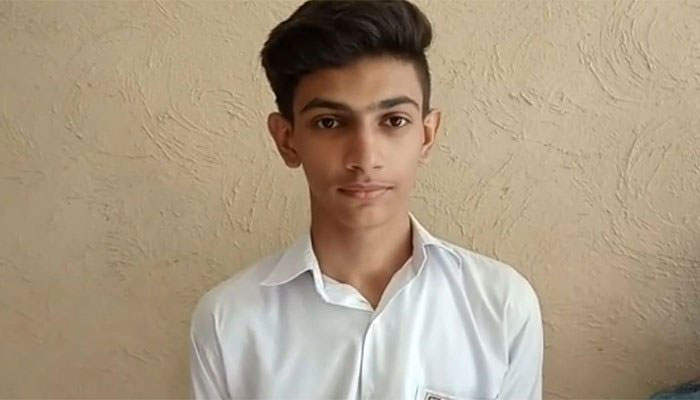 He said that he was business-minded, so he decided to study commerce instead. "I have started CA and plan to appear in the CSS examination after that," he said.
Two other students belonging to the same college have secured second and third positions in the examinations.
Muzammil Ahmed Khan, son of Masood Ahmed Khan, scored 965 marks and secured second positon, while Urooba Bint-E-Riaz, daughter of Muhammad Riaz, gained 949 marks to clinch third positon.
According to a press release from the Board of Intermediate Education, Karachi (BIEK), A total of 43,021 students were registered out of which 41,985 participated in the examination.
12,888 successfully passed the exams, leaving the ratio of passing at 30.70. 110 students achieved A-1 grade, 1,084 A-grade, 2,696 B grade, 4,262 C grade, 4,230 D grade, and 506 E grade.