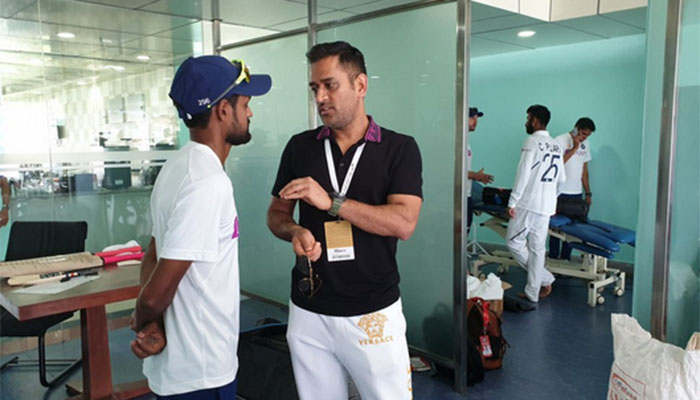 Former captain Mahendra Singh Dhoni — MS Dhoni — complimented left-arm spinner Shahbaz Nadeem's bowling after India thrashed South Africa on Tuesday.
Nadeem was drafted into the Indian squad for the third Test match against South Africa after Kuldeep Yadav was ruled out due to a shoulder injury.
At the age of 30, Nadeem made a memorable debut as he took four wickets in the final test, paving the way for India's 203 run win against Proteas.

Also read: India leave South Africa hurting with Test series sweep
"I got the call just a day before the Ranchi Test. I was included as a back-up spinner. I didn't have a clue that I will be making a Test debut for my country. I packed my bags and left for Ranchi," said Nadeem.
Dhoni was seen talking to Nadeem inside team India's dressing room in a picture posted by BCCI. "I met him after the match and asked him, 'Mahi Bhai how did I do?" Nadeem told an Indian news agency.
"Shahbaz, you have matured now. I was watching you bowl. There is a maturity in your bowling now," replied the Indian cricket legend.

"That is because of your domestic experience. Just don't experiment too much and play the way you have been playing. Your journey has started, Shahbaz," added Dhoni as revealed by Nadeem.
How did Proteas captain du Plessis link Brexit to South African cricket?
"We chatted about our journeys," Nadeem added when talking about his conversation with the batting star.

India also claimed the record of winning their 11th home Test series during the Test match series against South Africa.