LONDON: Former prime minister Nawaz Sharif's Qatar Airways air ambulance landed at the Heathrow airport on Tuesday. 
This was announced by Nawaz's personal physician Dr Adnan Khan on Twitter. 
"Former PM #NawazSharif on-board Qatar Airways Air Ambulance A7-MED has landed safely at Heathrow, London-UK," tweeted Dr Adnan. 
The ambulance, which arrived at 8:45am at Lahore Airport had Qatar as its first destination, from where it continued its journey towards London.
Seven people were travelling with Nawaz, along with his brother Shehbaz and physician Dr Adnan.  
Earlier, Prime Minister Imran Khan had said the government had no objection to Nawaz travelling abroad. The prime minister added that that Nawaz had assured the court that he will return to Pakistan upon completion of his treatment. 
Upon arrival in London, Nawaz was taken to his son Hasan Nawaz's apartment.  

Hussain arrived in London from Saudi Arabia on Tuesday evening. Ahead of his father's arrival at Hasan's flat, former finance minister Ishaq Dar, Sharif's son-in-law Ali Darand, Sharif's youngest daughter Asma Sharif arrived at the Avenfield Apartments. 
Suleman Shehbaz Sharif also arrived to meet his uncle with his wife. Nawaz had flown to Doha from Lahore and departed to London after refueling and a brief rest. A Sharif family spokesmen said that they would be consulting doctors in London and then take a decision.

He said that Nawaz will be treated at Hasan Nawaz's flat and a room has been reserved for it. The room has been equipped with the necessary equipment as advised by doctors, said the source. A source at the Harley Street Clinic said that two doctors have been engaged and they will review the situation and then a further decision will be taken.
Nawaz will be taken to US for treatment: Marriyum Aurangzeb
Earlier, while speaking to morning show in Geo Pakistan, PML-N spokesperson Marriyum Aurangzeb said doctors had conducted a medical test in the morning.
"If Nawaz Sharif had left 15 days earlier, then his treatment would have already started by now," Aurangzeb said. "Nawaz will be taken to the US for treatment."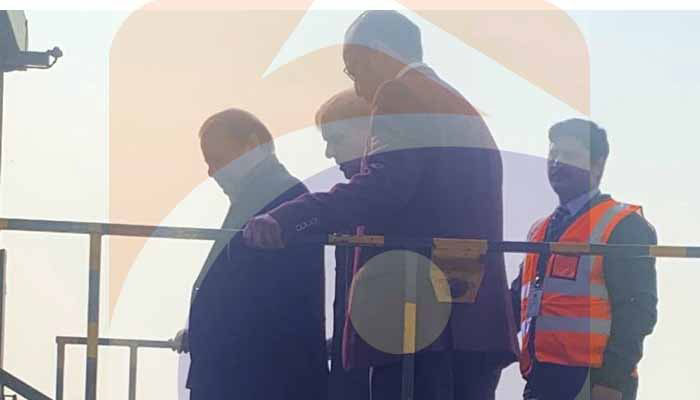 We will consult the doctors in London and then take a decision, she said, adding Nawaz was kept on high dose medicine for 15 days.
Aurangzeb further said that in the absence of Nawaz and Shehbaz, party affairs will be handled by the senior leadership of the PML-N.
Earlier, 21 senior PML-N leaders were at the Hajj Terminal of the Lahore Airport to see off the former prime minister. Some of those in attendance were Aurangzeb, Raja Zafarul Haq, Ahsan Iqbal and Khawaja Asif.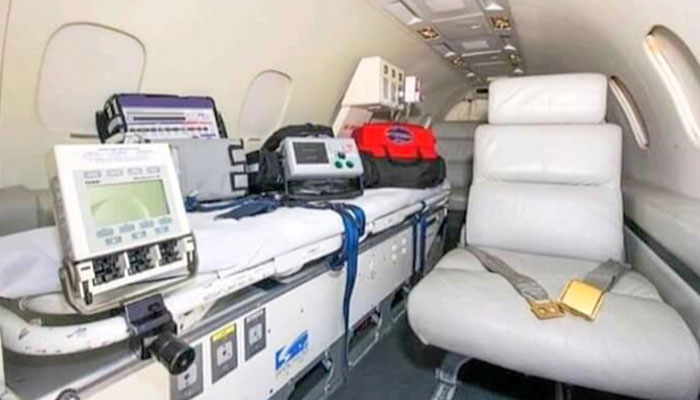 According to PML-N spokesperson Aurangzeb, the air ambulance which Nawaz will travel in has a built-in ICU and fully functional operation theater.
Nawaz to exit country by showing court order
Earlier, immigration sources told Geo News that Nawaz's name will remain on the Exit Control List (ECL) even after the court allowed him to go abroad for medical treatment.
According to immigration officials, since the court granted the former premier an exemption on medical grounds to travel outside the country, he will have to produce the court order to get past immigration officials.
Sources said that the name of the former premier will remain on the ECL as per the law, but his exemption according to the court order will be mentioned in the computerised record.
Nawaz will have to produce his passport and the court order before the immigration officials to fly abroad from the Allama Iqbal International Airport in Lahore tomorrow morning. 
Lahore High Court's verdict
The Lahore High Court (LHC) on Saturday permitted to remove Nawaz Sharif's name from the Exit Control List (ECL) without any conditions for a time period of four weeks.
On Friday, the LHC called the plea admissible regarding the removal of former premier Sharif's name from the ECL on a conditional basis — the government had said it would allow a 'one-time permission' provided Nawaz Sharif deposited surety bonds worth Rs7-7.5 billion.
In its decision, the LHC said that in case Nawaz's health doesn't improve then the time-period can be extended, adding that the government officials will be able to contact Nawaz through the Pakistani embassy.