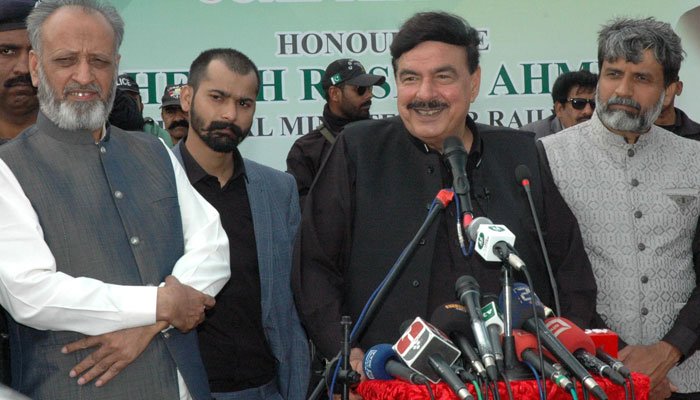 FAISALABAD: Federal Minister for Railways Sheikh Rashed Ahmad on Friday said that the opposition parties were not in any position to launch a movement against the government, reported The News.
The minister made the comments while inaugurating the Chishtian Logistic Coal Terminal at Faisalabad Dry Port. 
The minister claimed that former prime minister Nawaz Sharif would not return from London to Pakistan. He, however added that he could not say anything about the future plans of PML-N President Shehbaz Sharif.
Also read: At least 19 dead, multiple injured as train collides with passenger bus near Rohri
Rasheed also condemned the killing of Muslims in India, saying that the recent incidents of hatred towards Muslims might create 1947-like situation in the region again. "The impact of these incidents cannot be restricted to India only," he said. 
"India has violated international law through annexation of disputed valley of Kashmir. The international community must intervene and force India to implement UN resolutions," he said. 
Also read: Sheikh Rashid says will build houses for those affected due to Karachi Circular Railway
'Government not responsible for price-hike'
The minister expressed concern over the price-hike and said that the government was not responsible for it. "The previous government put burden on the national economy by acquiring huge loans," he noted.
He promised that no increase in prices of flour and ghee would be allowed, though sugar rate may increase according to the market forces. "The coronavirus was a cause of sluggish global economic growth," he said.
The minister pledged to review withdrawal of insurance fee recovered from each passenger at the time of sale of train tickets. He said that railway officials were striving to make the department profitable. 
Originally published in The News