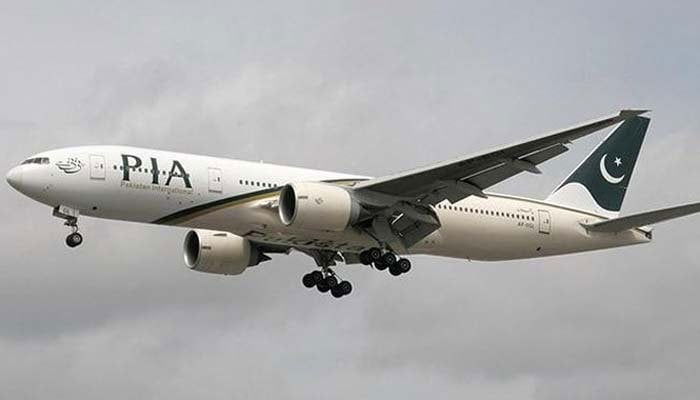 KARACHI: Pakistan International Airlines (PIA) on Saturday dismissed seven pilots after their licenses were cancelled by the Civil Aviation Authority (CAA), reported The News.
A PIA official confirmed that the pilots, including some first officers, have been issued termination letters. 
According to details, CAA's director-general had issued the license revocation letters after the government's approval.
Earlier, the Airline Transport Pilot licenses of 48 PIA pilots had been suspended and the pilots given two weeks to file their reply.
Last month, Federal Aviation Minister Ghulam Sarwar Khan, while presenting a preliminary report regarding the PIA plane crash in Karachi, had said 40% of pilots were flying aircraft with dubious licenses.
"Pakistan has 860 active pilots, which includes [pilots employed by] PIA, Serene Air and Air Blue. The inquiry which was initiated in February 2019 showed that 262 pilots did not give the [pilot's] exam themselves and asked someone else to give it on their behalf," the minister had said, adding that some pilots did not have the proper flying experience either.
"Pilots are also appointed on a political basis, unfortunately," he said. "Whilst appointing pilots, merit is ignored," he added, disclosing that degrees of four PIA pilots were found to be fake.
Soon after the statement, the national flag carrier was barred from entering the airspace of several countries and Pakistani pilots who had received their credentials from the CAA — were grounded.
The European Union Aviation Safety Agency had suspended Pakistan International Airlines' (PIA) authorisation to fly to the bloc for six months in a major blow to the carrier's operations.
The US Federal Aviation Administration (FAA) also downgraded Pakistan's air safety rating, while barring the PIA from entering its airspace. Meanwhile, the UK Civil Aviation Authority also suspended the national flag carrier's operations from three airports — Birmingham, London Heathrow and Manchester.
Airlines in 10 countries had demanded proof of valid flying licences for their Pakistani pilots after the shocking statement from the aviation minister.
In all, the foreign airlines asked for proof of 176 Pakistani pilot licences.
Of these, 166 "have been validated as genuine and certified by the CAA Pakistan as having no anomaly," the CAA recently said in a statement.
The "process for the remaining 10 shall be concluded by next week," it added.
The 10 airlines asking for proof of valid Pakistani pilots´ licences were from Turkey, the United Arab Emirates, Oman, Qatar, Kuwait, Bahrain, Turkey, Malaysia, Vietnam and Hong Kong, according to the CAA.