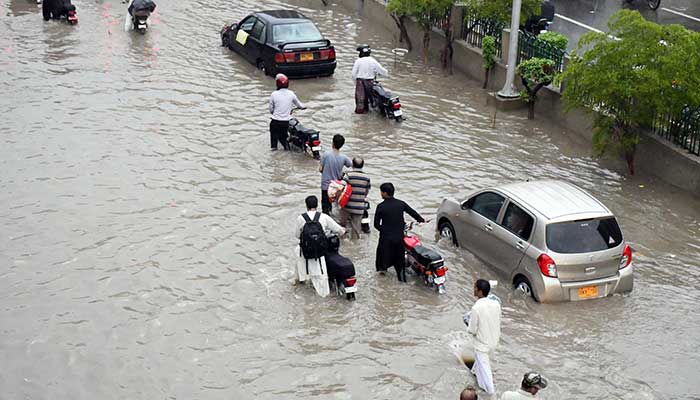 KARACHI: The Sindh High Court, while expressing its indignation on Wednesday, summoned the Karachi Metropolitan Corporation and Mayor Office officials over negligence of duty after torrential rains hit the city, causing drains to overflow, power outages, and loss of lives and property.
The SHC was hearing a petition related to the drain and sewerage system of the city's Central district, where SHC Justice Khadim Hussain Shaikh questioned the performance of the authorities in the city.
The judge, in his remarks, said that the entire city gets inundated during rains due to debris across the metropolis, clogging the drains.
"It is a tragedy that no one has the realisation of (the stranded water problem). Karachi drowned (during torrential rainstorms) due to illegal encroachments and not picking up of the garbage. Every institution blames the other one when it comes to taking responsibility," he said.
"Did anyone see that the vehicles in Karachi were drowning? And the people could not take their children out of their homes. During the rains, people's homes and stuff all got destroyed. Will any of us go into the dirty water?"
In continuation, the court also questioned the system for lifting and disposing of animal remains and waste after Eidul Adha.
To which, the government's counsel responded that funds have been allocated to the relevant authorities in this regard and the waste will be disposed off.
"The government is concerned with funds before doing any work," remarked the judge.
Responding to the remark, the counsel said that the responsibility to pick up garbage lies with the Karachi Metropolitan Corporation and Solid Waster Management.
"The Solid Waste Management department has not been given the responsibility to lift up garbage from the Central district," said the lawyer before the High Court.
The SHC, after hearing the arguments, summoned relevant officials from the KMC and Karachi Mayor Wasim Akhtar's office. 
Since Sunday, the heavy rain showers have caused severe damage to the infrastructure of the city, and at least 10 people have lost their lives in rain-related incidents.
Moreover, residents in several areas braced prolonged power outages, besides their homes being inundated from the rainwater and vehicles floating on heavily flooded streets.