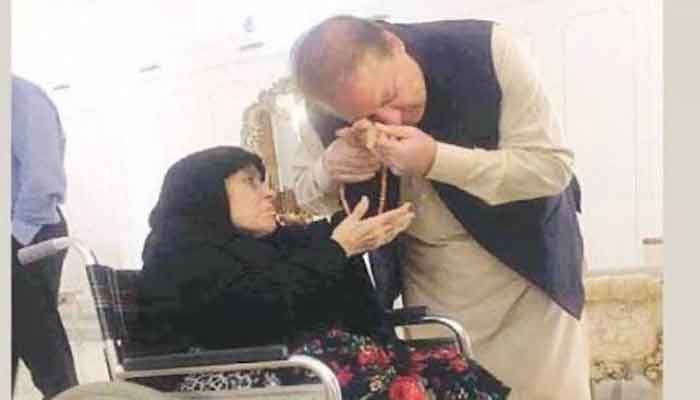 Former prime minister of Pakistan and PML-N chief Nawaz Sharif will not be able to accompany his mother's body to Pakistan, ex-finance minister Ishaq Dar stated on Sunday.
He said that Nawaz Sharif has been advised by doctors not to travel because of his ailing health. 
The PML-N chief's mother Shamim Akhtar passed away in London on Sunday afternoon. 
Nawaz Sharif's family told Geo News that Begum Shamim Akhtar was 89 years old. She had developed a severe chest infection and was suffering from an advanced stage of Alzheimer's Disease. Her condition had deteriorated over the last week and she could not regain her health due to old age. 
The deceased was receiving treatment at a London hospital and her body is currently kept at the Avenfield Apartments where she was staying with Nawaz Sharif.  
Family sources added that her death certificate, with the cause of death stated on it, will be issued by the Westminister Magistrate Court's coroner, after which the body will be released. Due to the weekend, the coroner's office will reopen on Monday, November 23. It will take four days to send the body to Pakistan. 
Until then, Begum Shamim Akhtar's body will be shifted to the mortuary of the Regent's Park Mosque in London.

Nawaz Sharif devastated by the loss
The news of his mother's demise has devastated Nawaz Sharif, family sources said. 
Sources added that decisions related to the funeral will be made in consultation with all the family members.
The Sharif family will make arrangements to transport the body to Pakistan for burial once the death certificate is issued.

At present, three airlines have been contacted by the Sharif family to transport the body back to Pakistan as the PIA offers no direct flights from London to Lahore.
Shahbaz Sharif, Hamza Shahbaz granted permission to attend funeral
Upon the request of the Sharif family, the government of Punjab has granted permission to Shahbaz Sharif and his son Hamza Shahbaz to attend the funeral of Begum Shamim Akhtar. Both the family members, who have been jailed over money-laundering charges, will be released on parole. 
Expressing his condolences, Punjab Minister for Prisons and Colonies Fayaz-ul-Hasan Chohan said that attending the funeral is Hamza and Shahbaz Sharif's legal and moral right, hence, the government has decided to grant the permission.
The minister also allowed senior PML-N leader Attaullah Tarar and some members of the Sharif family to visit Shahbaz and Hamza in jail for condolence. 
Nawaz Sharif speaks to brother on phone
Nawaz Sharif and Shahbaz Sharif talked over the phone to console each other over their mother's death, Attaullah Tarar told media personnel outside of Kot Lakhpat Jail.
"The two leaders discussed funeral arrangements, adding that the funeral prayers will be held at the Sharif Medical City in Jati Umra," Tarar said. "As soon as the body is sent to Pakistan, we will apply for Shahbaz's and Hamza's parole." 
PML-N puts off all political activities 
PML-N on Sunday announced the postponement of its political activities following the death of Begum Shamim Akhtar.
Party spokesperson Marriyum Aurangzeb confirmed that the party's activities will resume after the funeral of Begum Akhtar.
Condolences over the demise 
As soon as the news of Begum Shamim Akhtar's demise broke, condolences from all quarters started pouring in.
Prime Minister Imran Khan, the President of Pakistan Arif Alvi, and Foreign Minister Shah Mahmood Qureshi expressed sorrow over Begum Shamim's death and prayed for the departed soul.
Pakistan Army Chief Qamar Javed Bajwa also expressed grief and heartfelt condolences.
PPP chairman Bilawal Bhutto Zardari and former president Asif Zardari also sent their condolences to Nawaz Sharif, Maryam Nawaz Sharif, and Shahbaz Sharif. 
PPP leader Naveed Qamar, Jamaat-e-Islami ameer Senator Sirajul Haq, former premier Yousaf Raza Gillani, and Interior Minister Brig (R) Ijaz Shah also expressed grief over Begum Shamim Akhtar's demise.