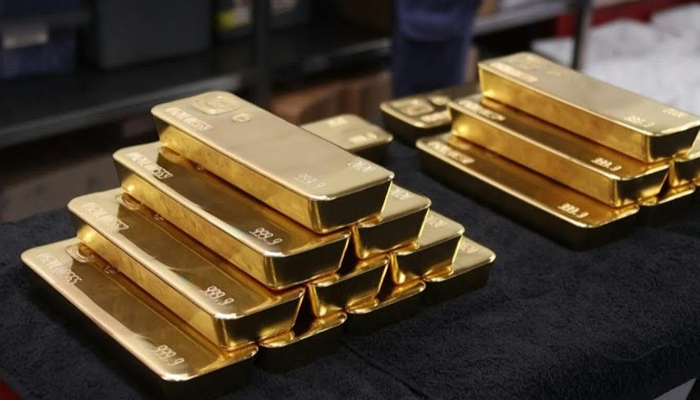 KARACHI: Gold prices in Pakistan recorded an increase of Rs400 per tola and Rs342 per 10 grams on Tuesday due to a downward trend in the rupee.
All Sindh Saraf Jewellers Association (ASSJA) reported an increase of Rs400 per tola for local markets, while its price fell by $2 to $1,787 per ounce in the international markets.
The precious commodity closed at Rs112,700 per tola and Rs96,622 per 10 grams on Tuesday. Gold prices in the local bullion market closed at Rs112,300 per tola and Rs96,280 per 10 grams on Monday.
Pakistan remains a relatively small gold market. It, however, does not produce the commodity and mainly relies on imports to meet local demands. Accordingly, changes in international price and rupee-dollar parity impact local pricing.

The local currency closed at Rs168.94 against the US dollar in the inter-bank market on Tuesday.
However, it is pertinent to mention that the gold rates in Pakistan are around Rs3,000 below cost compared to the gold rate in the Dubai market.
Meanwhile, silver prices in the domestic market remained unchanged at Rs1,430 per tola and Rs1,226 per 10 grams on Tuesday.
Prices in international market
Gold prices in world markets underwent little change on Tuesday, as investors awaited key US inflation data that could offer cues on the Federal Reserve's decision to taper stimulus measures meant to aid economic recovery from the pandemic.

Spot gold inched 0.1% lower to $1,792.31 per ounce by 0657 GMT; US gold futures were flat at $1,793.60.
"A modest acceleration (in inflation) reinforces the idea that the Fed is likelier to make a more formal announcement that a taper is imminent," DailyFX currency strategist Ilya Spivak said.
"The reaction from gold is going to be negative because the prospect of reducing stimulus is something that bids up yields."
— With additional input from Reuters