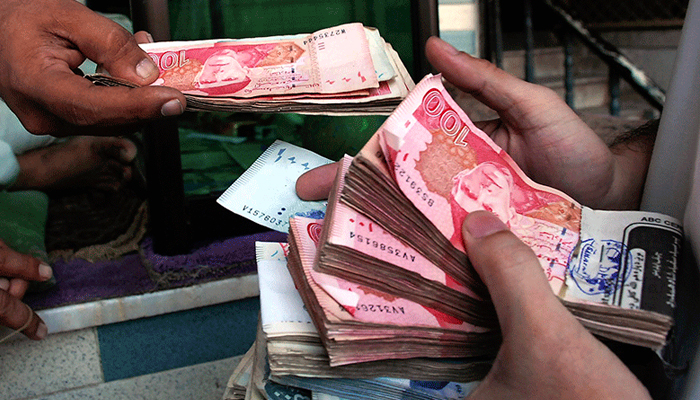 Rupee sheds 0.80% (or Rs1.48) during the day against US dollar.
Fresh decline comes on back of buying dollars from oil importers, IMF uncertainty.
Pakistani rupee has depreciated by Rs28.38 since July 1, 2021.
---
KARACHI: There was no respite for the rupee as it lost further ground on Wednesday and fell below the 185-mark in the inter-bank market to close at 185.92 against the US dollar.

According to the State Bank of Pakistan (SBP), the local currency lost 0.80% (or Rs1.48) to close at Rs185.92 against the greenback in the interbank market as concerns over weak economic fundamentals weighed in on the sentiment.
The fresh decline comes on the back of buying dollars from oil importers, high global commodity prices, and depleting foreign exchange reserves.

Analysts believe that dollar demand from importers, especially oil, has been consistently strong in recent sessions.
Read more: Pakistan sees outflow of $30.4m in March
Moreover, there is still economic and political uncertainty, despite the formation of the new cabinet. Besides this, the stalled International Monetary Fund (IMF) loan programme has also prevented the rupee from gaining.
The rupee has maintained a downward trend for the last 12 months. It has lost 22.09% (or Rs33.65) to date, compared to the record high of Rs152.27 recorded in May 2021.
With a fresh decline of 0.80%, the Pakistani rupee has depreciated by 18.01% (or Rs28.38) since the start of the current fiscal year on July 1, 2021, data released by the central bank revealed.

Read more: IMF keeps Pakistan's GDP forecast unchanged, but warns against inflation, deficit risks
The rupee had been under pressure since the beginning of March when the then Opposition submitted the no-confidence motion against the then prime minister Imran Khan. The domestic currency dropped to an all-time low of Rs188.18 on April 7 after Khan dissolved the Parliament and called fresh elections in a bid to block an opposition attempt to oust him.
This caused a political crisis in the country. The rupee started recovering on April 8, following a big 250 basis points hike in interest rates by the central bank and the change of government in the country.