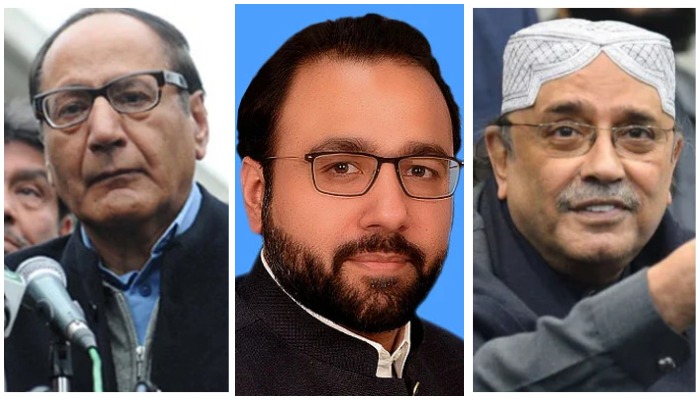 PPP leader Asif Ali Zardari meets PML-Q's Chaudhry Shujaat Hussain.
Chauhdry Salik to join federal cabinet soon, say sources.

Zardari discusses new setup and current political situation in meeting with Magsi.
---
LAHORE: PML-Q President Chaudhry Shujaat told PPP supremo Asif Zardari that he would have no objection to his son's inclusion in the cabinet of PM Shehbaz Sharif if it better serves the country and nation, Geo News reported Wednesday citing sources.
The development came during a meeting of the two leaders where Asif Zardari expressed a deep desire to see Chaudhry Salik Hussain in the federal cabinet.
Sources privy to the matter said that Salik would soon take oath as a minister with PML-Q leader Tariq Bashir Cheema already there.
Zardari expressed the desire during his visit to Shujaat's residence, where Cheema and Salik were also present.

"I want to include Salik in the federal cabinet. [...] will take Salik into the cabinet under any circumstances," the sources quoted Zardari as saying to the veteran politician, whose party is allied with the PTI in Punjab.
Responding to this, Shujaat said he has no objection to Salik's inclusion in the cabinet if it better serves the nation and the country, the sources added.
Moreover, Zardari thanked Shujaat for his support during the recent political turmoil and decided to continue political consultations in future as well.
He also thanked Shujaat for keeping his words at a time of political polarisation. Shujaat also appreciated Zardari for sticking to his commitments.
The leaders agreed what had happened in the Punjab Assembly could have been avoided.
Later, Zardari also met Balochistan Awami Party Parliamentary Leader Khalid Magsi. They discussed the new government setup and the current political situation.