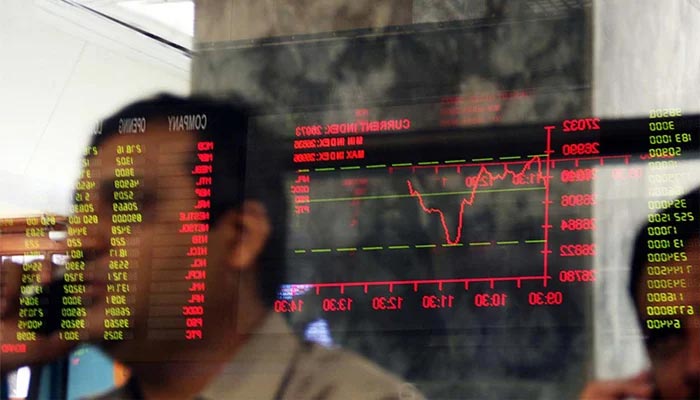 KSE-100 index gains 62.34 points to settle at 42,012.66.
Shares of 324 companies were traded during the session.
Overall trading volumes rise to 240.04 million shares.
---
KARACHI: The Pakistan Stock Exchange made a U-shaped recovery on Wednesday as the benchmark KSE-100 index erased losses, suffered in the first half of the trading session, to close above the 42,000-point mark.
Investor interest stemmed from anticipation of the resolution of domestic political issues, however, partial recovery in currency value and anticipation of the positive news from the International Monetary Fund (IMF) front sparked volatility and capped gains at the bourse.
A halt to the rupee's slide against the US dollar, which declined nominally during the session, aided the uptrend in the stock market.
The KSE-100 index entered the negative zone immediately after the morning bell rang and remained there for most of the day. A buying spree in the final hour, emerging in the wake of cherry-picking by investors, helped the market to recover and close in the green.
At close, the benchmark KSE-100 index recorded an increase of 62.34 points, or 0.15%, to settle at 42,012.66 points.
A report from Arif Habib Limited noted that another negative session was witnessed at the PSX due to ongoing political noise which created panic among investors by pushing the KSE-100 index down further.
"The benchmark KSE-100 index touched the intraday low of 594 points and remained in the red zone throughout the day, however, in the last trading hour investors opted for value buying which helped the index to close in positive territory," it stated.
Whereas, mainboard activity remained dry. On the contrary, hefty volumes were observed in the third-tier stocks.
Sectors contributing to the performance included technology (+42.6 points), cement (+24 points), chemical (+17.6 points), vanaspati and Allied (+11.7 points) and refinery (+11.6 points).
Shares of 324 companies were traded during the session. At the close of trading, 198 scrips closed in the green, 103 in the red, and 23 remained unchanged.
Overall trading volumes rose to 240.04 million shares compared with Tuesday's tally of 240.04 million. The value of shares traded during the day was Rs7.57 billion.
Pakistan Refinery was the volume leader with 21.23 million shares traded, gaining Rs0.90 to close at Rs16.64. It was followed by K-Electric with 15.14 million shares traded, gaining Rs0.02 to close at Rs2.52 and WorldCall Telecom with 13.43 million shares traded, gaining Rs0.08 to close at Rs1.54.