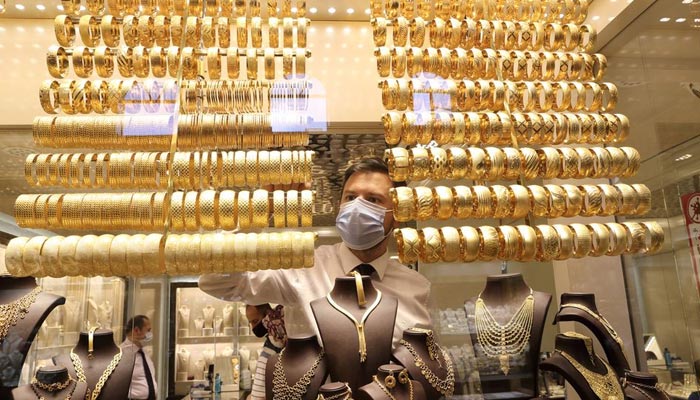 Gold price settles at Rs159,600 per tola.
Price increases by Rs1,114 per 10 grams.
Yesterday, price of yellow metal plunged by Rs4,200 per tola,
---
KARACHI: The gold price in Pakistan recorded an increase of Rs1,300 on Saturday in line with rising prices in the international market.
Data released by the All Sindh Sarafa and Jewellers Association (ASSJA) showed that the price of gold, considered a safe haven, gained Rs1,300 per tola to settle at Rs159,600.
Meanwhile, the yellow metal increased by Rs1,114 per 10 grams to settle at Rs136,831 in the local market.

A day earlier, the price of the yellow metal plunged by Rs4,200 per tola, receding nearly half of its gain recorded on Thursday.

Gold is cheaper by Rs6,000 per tola compared to its price in Dubai.
In the international market, bullion prices increased by $5 per ounce to settle at $1,767 supported by a softer dollar and bets that the Federal Reserve may cool the pace of rate hikes as economic risks deepen.

Meanwhile, silver prices in the domestic market remained unchanged at Rs1,630 per tola and Rs1,397.46 per 10 grams today.