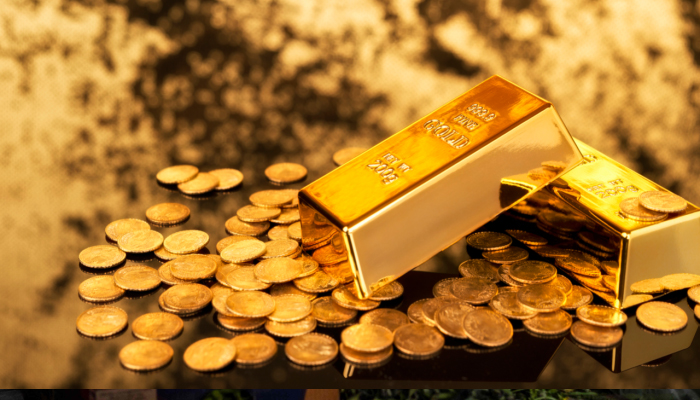 Gold surrenders hefty gains to trade below Rs150,000 per tola.
Rupee rally triggers heavy profit-taking in precious metal.
Gold price settles at Rs145,300 per tola.
---
KARACHI: Gold fell sharply on Wednesday as some investors unwound safe-haven positions as the precious commodity surrendered hefty gains to trade below Rs150,000 per tola as a rupee rally and crude oil drop triggered heavy profit-taking in the precious metal.

Gold slides beneath key technical levels around Rs145,000 per tola accelerated the decline as investors liquidated some long positions.
The price of gold — considered a safe haven — plummeted by Rs8,600 per tola and Rs7,373 per 10 grams to settle at Rs145,300 and Rs124,571 in the local market, data released by the All Sindh Sarafa and Jewellers Association (ASSJA).
The gold hit an all-time high of Rs162,500 per tola on July 28.
The decline was in line with the dealers' expectation of the market to undergo a correction after scaling to new peaks in previous sessions.

A sharp recovery of the Pakistani rupee of over Rs9 or 4% against the US dollar dimmed the shine of the yellow metal.
Cumulatively, the price of gold plummeted by Rs14,300 per tola in the last three sessions (Monday-Wednesday).
It should be noted that the gold price is standing below cost. Gold is cheaper by Rs2,000 per tola compared to its price in Dubai.
The latest price for local markets was determined to keep in view the prices at which trades took place among buyers and sellers.
In the international market, bullion prices plunged by $14 per ounce to settle at $1,766.
Meanwhile, silver prices in the domestic market shed Rs20 per tola and Rs17.15 per 10 grams to settle at Rs1,620 per tola and Rs1,388.88 per 10 grams today.