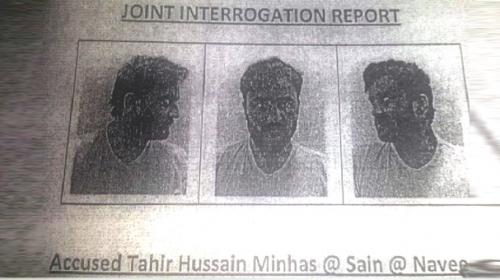 KARACHI: Significant revelations regarding the deadly Safoora bus attack, in which nearly 50 people belonging to Ismaili community were killed in May, have surfaced in the early hours of Friday.
Tahir Hussain Minhas alias Sain – one of the prime suspects in the case – has told the joint investigation team (JIT) formed to probe the deadly terrorist attack that apparently Islamic State (IS) militant organisation was behind the carnage that took place on May 13 in Karachi.
He said Abdullah bin Yousuf, who according to him is the chief of IS's Karachi and Punjab chapters, had issued directives for the sabotage. Yousuf is currently hiding either in Afghanistan's Helmand province or Syria, he claimed.
Minhas further admitted that he too wanted to leave for Syria along with his family but was caught before he could do so.
Saad Aziz, another key suspect of the Safoora attack, carried out wall chalking for Daish – an acronym for IS or ISIS or ISIL – throughout the port city, Sain further claimed.
Five suspects – Saad Aziz, Muhammad Azhar Ishrat, Haafiz Nasir, Tahir Hussain Minhas and Asadur Rehman – were arrested by the Sindh Police for their alleged involvement in the Safoora bus attack.
The suspects, besides killing at least 47 people of Ismaili community, are also allegedly involved in murder of T2F director Sabeen Mahmud, firing on US academic living in Karachi Debra Lobo in area of Ferozabad police station, magnet-fitted bomb attacks on Naval officers in Karachi, suicidal attack on Brig Basit of Rangers, grenade attacks on private schools in Nazimabad and North Nazimabad, bomb blast and target killing of Bohri community in Arambagh, North Nazimabad, Bahadurabad and in Hyderabad, bomb attacks on police mobile vans and killings of police personnel at various locations in the Sindh capital.
The weapons recovered from the suspects include three Kalashnikovs, seven 9mm pistols, five grenades, five laptop computers, seven pieces of explosive materials, and extremist militant literature.