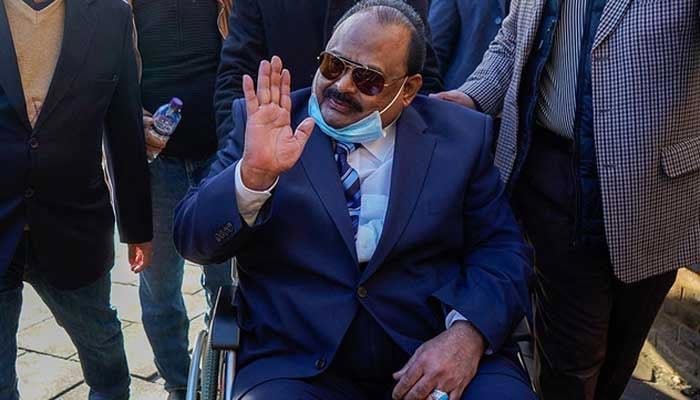 Altaf Hussian issues statement after MQM merger announcement.
Says he is thankful to those who brought MQM factions together.
Merger will only strengthen my politics, says MQM founder.

---
LONDON: Founder Muttahida Qaumi Movement (MQM) Altaf Hussain on Thursday, termed the reunification of MQM splinter groups a "forced marriage" bound to end in a bad divorce.
Talking to the media after a court appearance at the London High Court, the MQM founder and leader Altaf Hussain welcomed the development, saying it will only strengthen his politics and his continuing influence in the city. 
Altaf said that the establishment should expedite the reunification efforts saying he was thankful to those who brought them together. He added that the Muhajir nation could see how genuine leadership was removed by using force to create artificial leadership.
Altaf Hussain added that he was overjoyed at the merger of MQM factions, as this will help him direct his criticism towards one party rather than various factions, which was confusing for everyone.
Hussain said MQM-P had launched a case against him at the London court to snatch nearly half-a-dozen properties from him. Those who used to call him their father have betrayed him for the sake of money and power politics, but they will not succeed.
Two senior MQM-P leaders, on condition of anonymity, said that Altaf Hussain's supporters who disappeared after the crackdown in 2016, have resurfaced in the last few months. 
They said the MQM workers often ask them questions for going against Altaf Hussain and not taking a stand for him the way supporters of Nawaz Sharif and Imran Khan stood by them in difficult times.
They said the Altaf Hussain factor cannot be eliminated from Karachi unless the MQM-P delivers for the local communities.
MQM-P reunification
In a presser on Thursday, MQM-P's Khalid Maqbool Siddiqui, MQM Organisation Restoration Committee founder Dr Farooq Sattar and Pak Sarzameen Party's (PSP) Mustafa Kamal reunited under the banner of MQM-Pakistan.
Kamal established the PSP in 2016 and Sattar formed the MQM Restoration Committee in 2018 after developing differences with the party.
Political commentators termed the move "major", saying that the merger of the old guard will definitely affect the 2023 General Elections if the party remains intact.
In a press conference flanked by the top brass of the party, MQM-P Convener Khalid Maqbool Siddiqui said the "graveness" of the situation in Sindh's urban areas requires all people to join hands.
"It is important that under the circumstances, the people, whose families laid down their lives for Pakistan's formations, should come together for a historic struggle," the MQM-P leader said.