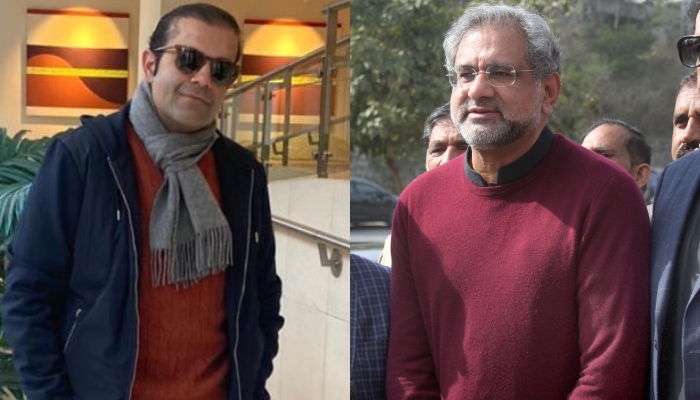 Inappropriate to call ex-finance ministers "jokers", says Abbasi. 
No truth in reports of parting ways with PML-N, he says.  
Ex-federal minister says staying in IMF programme crucial.
---
Pakistan Muslim League-Nawaz (PML-N) Senior Vice-President Shahid Khaqan Abbasi Thursday took a strong exception to Suleman Shehbaz's tweet in which he called the three former finance ministers "jokers". 
The PML-N senior leader said he was not sure if Suleman said this or not but such remarks were highly condemnable.
Taking to Twitter, Suleman dubbed the three last finance ministers of the country including the PML-N's own last finance minister Miftah Ismail as "jokers".
He chose to publicly ridicule Miftah (without naming him), who was the first finance minister of his father's cabinet and was praised by PM Shehbaz for getting the IMF programme revived last year.
In a tweet, Suleman said: "The last 3 finance ministers were jokers. They ran a clown show! Dar sb averted a default after atomic detonations in 1998. The challenges are humongous, he is giving his best shot no match for his commitment and hard work. The 3 jokers have laid minefields!"
Speaking on the Geo News' programme "Aaj Shahzeb Khanzada Kay Sath" Abbasi said that it was inappropriate to call the former finance ministers jokers regardless of their party affiliation.
"Suleman should explain what the tweet meant," he added.
Responding to a question, the former prime minister said that there was no truth in the reports claiming he was parting ways with the PML-N.
To another question about the economy, he said, "Staying in the IMF programme, we have to prove that we are a responsible country."
Stressing the need for economic reforms, Abbasi said that the government should take the rupee to its actual value. "The prices of gas, electricity and oil could not be kept lower than the purchase price. The government will have to make a swift decision to bring stability to the crisis-hit country."
Berating the PTI-led former government, Abbasi said that Khan brought the country to the verge of default. "We are trying to correct the mistakes of the previous government."