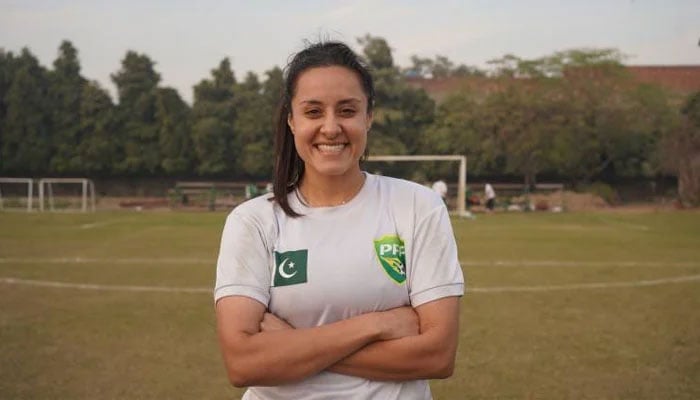 Maria Khan, Pakistan women's football team captain, has said that she is proud to be compared with great footballers after her free-kick goal against Saudi Arabia in the four-nation cup in Al Khobar.

Recently, Pakistan drew against Saudi Arabia at Prince Saud bin Jalawi Stadium, in their last match of the tournament to finish second with four points.
Maria, who was declared the best player of the event, scored a screamer from a distance to help Pakistan equalise and draw the match.
In an exclusive interview with Geo News, Maria said: "I am proud to be associated with the great football players after my goal free-kick against Saudi Arabia. I am proud that my family has contributed to sports, and now I am trying to contribute to football apart from squash."
The Pak Shaheens' skipper said the most positive thing about the four-nation cup was that the national women's side got attention, and she hoped to get the same in the future.
Pakistan won a free-kick in the 65th minute of the game against the hosts. Everyone in the box waited for a lofted cross from Pakistan skipper Maria, but she fancied her chances from distance and opted for a shot at goal, which the Saudi Arabia goalkeeper couldn't stop as it ended in the back of the net.
"I feel proud that my goals are being compared with the goals of great players. When we got the free-kick, I aimed to take a shot at the goal and see what would happen. When I scored the goal, it was appreciated. I'm happy to be named alongside world greats. My goal is to score such goals for Pakistan in the future," she said of his long-distance goal.
It is worth mentioning here that Maria is the granddaughter of former world squash champion Hashim Khan, who won the British Open title seven times.
"I am honoured to belong to a sports family. I am proud that my family has contributed to sports. My family's relationship has been with squash, and now I am playing football. I want to contribute to women's sports, not just women's football. I live in Dubai and play football along with work," she concluded.