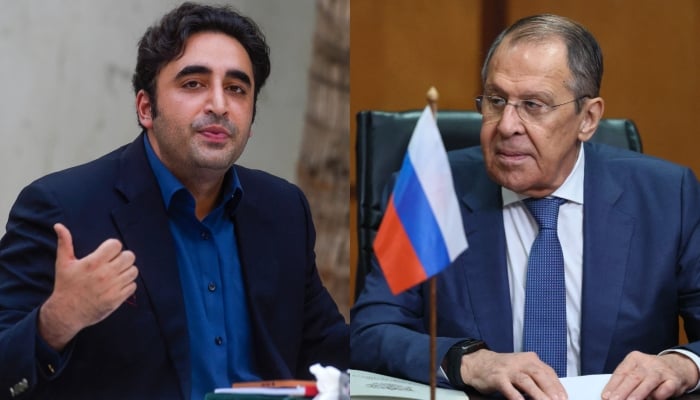 Foreign ministers to deliberate upon bilateral relations.
To exchange views on regional, int'l issues of mutual interest.
Bilawal will hold talks with Lavrov on January 30 (Monday).
---
ISLAMABAD: Foreign Minister Bilawal Bhutto-Zardari will embark on a two-day official visit to Moscow from January 29-30 at the invitation of his Russian counterpart Sergey Lavrov, The News reported Sunday citing the Foreign Office.
"The foreign minister will hold official talks with his Russian counterpart where the two sides would deliberate upon the entire spectrum of bilateral relations and exchange views on regional and international issues of mutual interest," said the Foreign Office. 
Bilawal will hold talks with Lavrov on January 30 (Monday), a week after Pakistan and Russia signed an agreement on the supply of Russian crude oil and oil products. 
The visit is significant because even when the Russians have their hands full with Ukraine, they still extended this invitation, a sign of warming relations and a chance to discuss further the deteriorating situation in Afghanistan.
On January 20, Islamabad and Moscow — after the conclusion of the annual inter-governmental commission — agreed on late March as the timeline for crude oil export. 
This is a major development for Pakistan as the country is facing a severe economic crisis. 
State Minister for Petroleum Musadik Malik revealed that Pakistan wants to import 35% of its total crude oil requirement from Russia.
Meanwhile, Russia's Energy Minister Nikolay Shulginov also said that Pakistan will pay for energy purchases from Russia, when they start in late March, in currencies of friendly countries.

During the talks, both countries agreed that after consensus on the technical specifications was achieved, the oil and gas trade transaction will be structured in a way it has a mutual economic benefit for both countries.

The officials also agreed to strengthen energy cooperation, enhance energy trade and broaden energy infrastructure investment based on strategic and favourable commercial terms.
Both sides have agreed to work on a "Comprehensive Plan for Energy Cooperation", which would form the foundation for future work and is to be finalised in 2023.
Pakistan and Russia also agreed to further strengthen and enhance collaboration in the fields of trade and investment, energy, communication and transport, higher education, industry, railways, finance and banking sector, customs, agriculture, science and technology, and information technology.