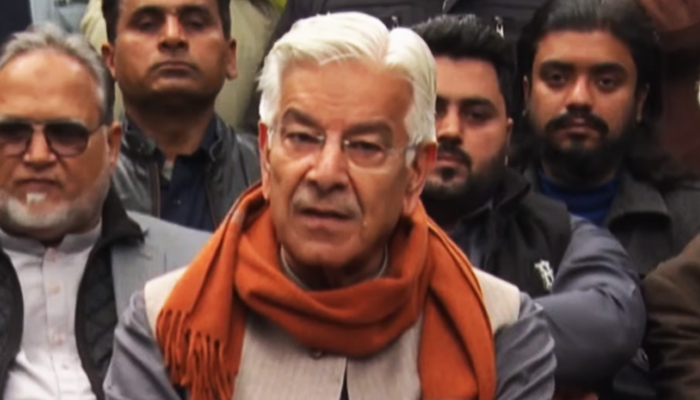 "By accusing Zardari of his assassination plot, Imran is trying to turn mood of politics towards violence", says federal minister.

Asif says if Nawaz and Zardari can be arrested on basis of false cases then why can't Imran be on true ones?

"Imran's allegations started from US and reached Mohsin Naqvi."
---
Hitting out hard at the Pakistan Tehreek-e-Insaf (PTI) chairman over his fresh allegation against the Pakistan Peoples Party (PPP) co-chairperson, Defence Minister Khawaja Asif said on Sunday that Imran Khan came up with a "new mantra" against Asif Ali Zardari.
On Friday, Khan accused Zardari of hatching and financing an assassination plot against him for which the PPP stalwart had hired "terrorists".

Asif, while talking to the media in Sialkot, said: "In our country's politics, neither have opponents been assassinated nor will they be in the future."
Only political differences have remained which shall also persist in the future, he added.
According to the defence minister, with Khan's statement, the PPP leadership is facing a life threat. "The PPP is a party that despite embracing the martyrdom of Zulfiqar Ali Bhutto and Benazir Bhutto continued its political journey."

He further lamented the former prime minister — who was removed from power in April last year — and said "by accusing Asif Ali Zardari of his assassination plot, Imran Khan is trying to turn the mood of politics towards violence". 
The PTI chief, Asif said, had played his new card which could culminate in bloodshed. Imran's allegations started from America [against toppling his PTI govt] and reached Mohsin Naqvi [Punjab's caretaker chief minister]."
While responding to the question regarding the recent arrest of PTI Senior Vice-President Fawad Chaudhry, Asif said: "Leaders should not be incarcerated on the basis of false cases. If things are carried out in a political manner, no one will take any action."
If any institution feels threatened, then the law should come into action, he added.
He went on to say that during the PTI's own government, it had arrested opponents of its choice by accusing them that they were "intimidating the judiciary and talking loosely about [state] institutions".
Referring to Khan's consistent criticism of the army, Asif said: "Imran called President [Arif Alvi] and asked him to arrange a meeting with the army chief. Initially, he used abusive language against the chief of the [army] institution and then he wished to meet him."
While talking about the PTI's lawmakers' mass resignation and their acceptance, the defence minister said: "Earlier, they abandoned the assemblies and now ask the military to talk to them."
On the question of Khan's arrest, he replied by saying: "If Nawaz Sharif, Asif Ali Zardari, and other leaders can be arrested on the basis of false cases. then why can't he be arrested on the true ones?"