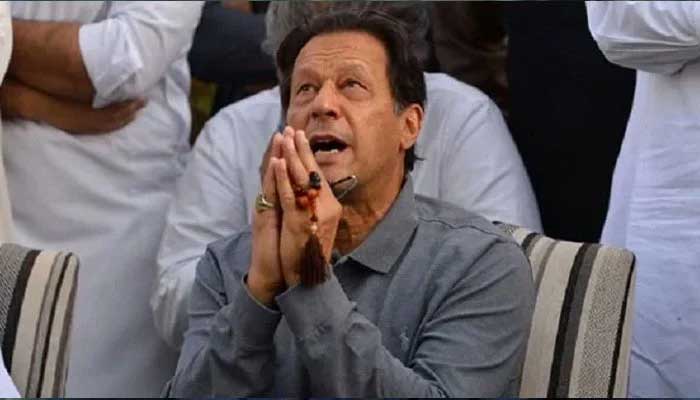 Preliminary written response submitted in court.
Khan's reply states disqualification petition is not admissible.
PTI chief neither confirms nor denies being Tyrion's father.
---
Pakistan Tehreek-e-Insaf (PTI) Chairman Imran Khan Wednesday filed a plea to dismiss the disqualification petition against him submitted in the Islamabad High Court (IHC) for "hiding" his alleged daughter Tyrian Jade White in the nomination papers.
The PTI chief's disqualification case, for which a preliminary written response has been submitted in the court, will be heard by IHC Chief Justice Aamer Farooq today (February 2). The response stated that the IHC's four judges had previously excused from hearing the matter.
The petition states that the former prime minister no longer holds office as a member of the National Assembly, which is why the application is not admissible. Within the Constitutional jurisdiction, the federal capital's top court cannot review any affidavit of Khan, the petition states.
According to the preliminary written response filed by Khan's counsel Barrister Salman Akram Raja, the PTI chief has resigned from the parliament's lower house and has no intention to join the current assembly. Since he is no longer a public office holder the disqualification petition is not admissible, the response also mentioned.

In addition to producing witnesses and evidence at a competent forum, the cross-examination of witnesses along with their production is required to review the affidavits.
In the written reply, the deposed prime minister — whose government was ousted in April last year following a no-confidence motion — did not respond to any of the allegations levelled in the petition regarding him being Tyrian's father.
Khan neither confirmed nor denied being her father. He instead raised an indirect objection to the serving chief justice hearing the case.
The petitioner Abdul Wahab Baloch has earlier filed a plea in the same case. The incumbent top judge of the IHC had also earlier excused from hearing the case on August 1, 2018. A judge who has previously excused themselves from a case cannot hear it again.
The court has directed Khan to file a response on the merits of the case or the petition's admissibility as he deemed fit.