A closed-circuit television (CCTV) footage and pictures of the suspected Peshawar suicide bomber entering the Police Lines showed that he first parked his motorcycle and then entered the mosque where he blew himself.
The short video clip, which Geo News obtained on Thursday, showed the suspected bomber entering the Police Lines on a motorcycle. 
After passing through a police checkpost in the heavily fortified area, the attacker can be seen walking with his motorcycle towards the parking lot near the mosque.
The suicide blast inside the mosque on Monday martyred over 100 people and injured more than 200, sending shockwaves across the country.
After parking the motorcycle, the suspected attacker, who was wearing a police uniform and helmet, then moved towards the mosque.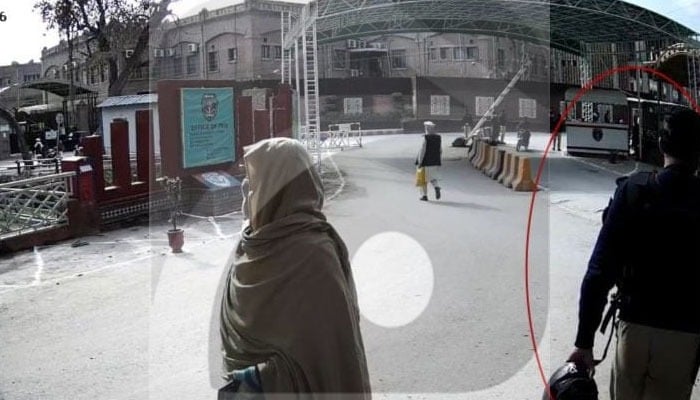 The photos and CCTV video match with what was described by the Khyber Pakhtunkhwa inspector general of police of the attacker in his press conference earlier today.
IG Moazzam Jah Ansari had said that the police had acquired the CCTV footage of the suicide bomber in which he can be seen in police uniform, riding a motorcycle and wearing a face mask.

The IG had also shared that the bomber entered the mosque at 12:37pm, and also that he had asked one of the police constables about the mosque.
In the press conference, the KP police chief had also shared that the police were close to tracing the network of terrorists behind the attack.
"There's a complete network behind him. He is not a lone ranger. We will talk with the evidence in hand. We are burning the midnight oil in this investigation and we are exploring every possibility," said IG Ansari.
Monday's attack on a mosque in the Police Lines area of Peshawar was the deadliest in a decade to hit the restive city near the Afghan border and comes amid a surge in violence against law enforcement agencies. 
The bomber struck as hundreds of worshippers gathered for Zohr prayers in a mosque that was purpose-built for the police and their families living in a highly fortified zone.