NEW YORK: For more than a century, the plinths atop a New York courthouse held statues all depicting men. Not anymore, thanks to the work of a Pakistani-American artist.
Joining Zoroaster, Confucius, Moses and six other male ancient jurists on the neoclassical building's roof in Manhattan is an eight-foot female sculpture shimmering in gold.
Shahzia Sikander, 53, created the work to raise awareness about the low representation of women in public statues in the United States, which tend to honour white men.
"Representation matters and women representation (matters) in spaces which have been fundamentally very patriarchal, like law and art," the artist told AFP.
"So of course, placing the character on the roof of the courthouse, the context of the courthouse allows a very different conversation to take shape," the 53-year-old added.
The building, in Manhattan's Flatiron District, has boasted ten plinths since it opened in the late 19th century. In 1955, a statute of the Prophet Mohammed was removed from one following complaints from Pakistan, Indonesia and Egypt.
Several statues were then shifted over one spot — but an empty plinth still remained.
Now, Sikander's sculpture occupies the spot where the Byzantine emperor Justinian used to stand.
Her statute depicts a feminine figure emerging from a pink lotus flower, her hair braided into spiralling horns.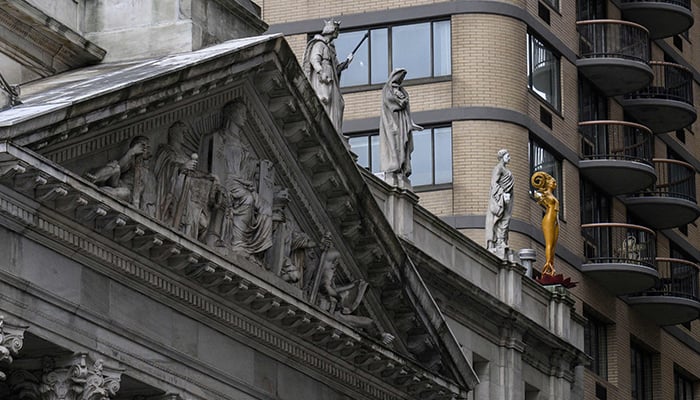 It calls to attention the discrimination women continue to face, "whether it is health and education rights, equal economic opportunities, gender-based violence and race, or class discrimination," Sikander says.

"Despite years of women's struggle for legal, socio-economic and political equality, gender bias still continues to create barriers for many women," she wrote in her artist's note about the work.
Sikander, who was born in Lahore and moved to the United States 30 years ago, entitled the work "NOW," a nod to recent events that opponents say have dismantled women's rights.
The Supreme Court, which has leaned heavily to the right since Donald Trump's presidency, scrapped the federal right to abortion when it overturned Roe v. Wade last June.
The statue boasts the signature lace collar of liberal icon and progressive Supreme Court justice Ruth Bader Ginsburg, who died in September 2020 at the age of 87.
"With Ginsburg's death and the reversal of Roe, there was a setback to women's constitutional progress," said Sikander.
The temporary work is part of her exhibition "Havah... to breathe, air, life," which features an 18-foot sculpture called "Witness" in nearby Madison Square Park.
The two works will be on display until June.