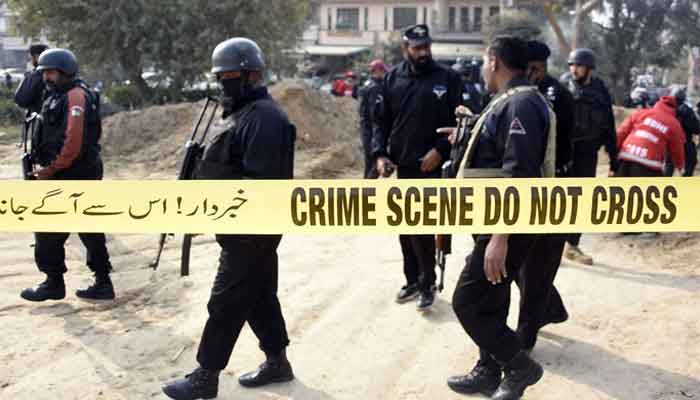 Terrorist killed in exchange of fire in Tela Band. 
Militants involved in grenade attacks, firing incidents: CTD. 
Also involved in over 20 extortion cases.
---
One militant was killed while five others were arrested in an exchange of fire during an operation conducted by the counter-terrorism department (CTD) in the Tela Band area of Peshawar, a statement said Wednesday.
The statement said that the terrorists belong to the outlawed Tehreek-e-Taliban Pakistan (TTP) and they are involved in over 20 extortion cases. 
The militants were involved in grenade attacks and firing incidents, said the CTD. 
"The detained terrorists had demanded Rs5 million from a citizen named Imtiaz and upon his refusal, the terrorist attacked the victim's house with a grenade and by shooting at it," it added. 

Two Kalashnikovs, six hand grenades, two pistols and cartridges have been recovered from the assailants, the statement said, adding that all the terrorists including the one who was killed belonged to Afghanistan. 
Four terrorists, three detainees killed
On February 14, four terrorists and three detainees were killed in the exchange of fire when a CTD squad came under attack in the North Waziristan tribal area.
An official of the law enforcement agency said that the CTD personnel were transporting three detainees from Miranshah to Bannu when they were ambushed by the terrorists near Mir Ali Bypass during which the captives and four of the attackers were killed.
The spokesperson added that the attackers wanted to free their accomplices.
"The eliminated terrorists were involved in grenade attacks on security forces and police as well as targeted killings, specifically the attack on the Cantt Police Station and martyring of constable Iftikhar."
Four sub-machine guns, cartridges and other ammunition were recovered from the dead, the security agency's spokesperson stated.
After the attack, the security forces and heavy police parties launched a search operation in the area to track down the terrorists who fled, the CTD added.
Insurgency is rearing its ugly head as terrorist attacks across Pakistan have increased lately — especially in the northern and north-western parts of the country — since the end of the ceasefire by outlawed Tehreek-e-Taliban Pakistan (TTP) last year.
However, the government and other stakeholders are holding consultations on how to deal with the daunting challenge of terrorism.