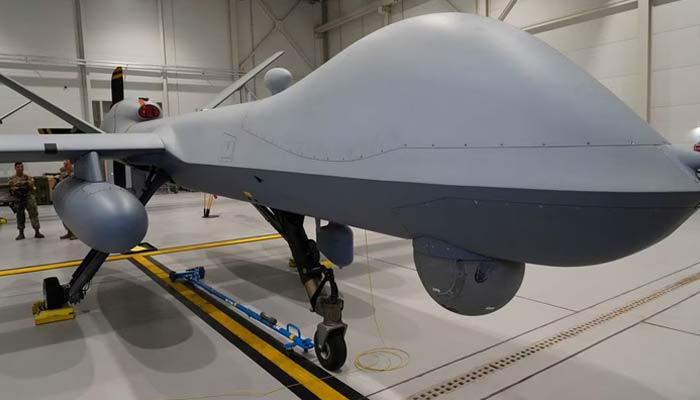 WASHINGTON/KYIV: Moscow told Washington on Wednesday to keep well away from its air space after a US drone intercepted by Russian jets crashed into the Black Sea, the first known direct confrontation between the superpowers since Russia invaded Ukraine.
The US military said the incident was caused by a mid-air collision after two Russian Su-27 fighter planes approached one of its MQ-9 Reaper drones on a reconnaissance mission over international waters.
The fighters harassed the drone and poured fuel on it, before one clipped the drone's propeller, causing it to crash into the sea, Washington said.
"This incident demonstrates a lack of competence in addition to being unsafe and unprofessional," said James B Hecker, commander of US air forces in Europe.
Moscow denied the aircraft had collided and said the drone had crashed after "sharp manoeuvres". It said the drone had flown close to its air space with its transponders off, and that Russia had scrambled fighters to identify it.
In a statement published on the website of the US embassy in Washington early on Wednesday, Russia's ambassador Anatoly Antonov said the US drone had "deliberately and provocatively" approached Russian air space.
"The unacceptable activity of the US military in the close proximity to our borders is a cause for concern," he said. "They gather intelligence, which is subsequently used by the Kyiv regime to strike at our armed forces and territory."
"Let us ask a rhetorical question: if, for example, a Russian strike drone appeared near New York or San Francisco, how would the US Air Force and Navy react?" he said, calling on Washington to "stop making sorties near the Russian borders".
The US conducts regular surveillance flights in international air space in the region. It has supported Ukraine with tens of billions of dollars in military aid but says its troops have not become directly engaged in the war.
Elisabeth Braw, a senior fellow at the American Enterprise Institute in Washington, said it was a "very sensitive stage in this conflict because it really is the first direct contact that the public knows about between the West and Russia."
Zelenskiy commits to holding Bakhmut
Ukraine's President Volodymyr Zelenskiy repeated his commitment to continuing to defend Bakhmut, the small eastern city that has become the target of Europe's bloodiest infantry battle since World War Two.
Moscow has launched a massive winter offensive involving hundreds of thousands of freshly called-up reservists and convicts recruited from jail as mercenaries. It is trying to capture Bakhmut to secure its first substantial victory in more than half a year.
Kyiv had appeared likely last month to be preparing to pull out of the city but has since doubled down on defending it, saying it is exhausting Russia's attacking force there to pave the way for its own counter-attack later this year.
Zelenskiy said in an overnight address that he had met his top military brass, and the main focus was on Bakhmut: "There was a clear position of the entire command: Strengthen this sector and destroy the occupiers to the maximum."
Some Western and Ukrainian military experts have questioned whether it makes sense for Kyiv to continue the battle for Bakhmut, because of its own heavy losses there.
Ukrainian Deputy Defence Minister Hanna Malyar said the defence of Bakhmut was important because a "large amount of enemy material is being destroyed ... A huge number of troops are being killed and as of today, the enemy's capacity to advance is being reduced."
Intense fighting has also been underway north of Bakhmut, where Russia is trying to recapture territory it lost to a Ukrainian counter-offensive last year, and further south, where Moscow took heavy losses in failed assaults on the Ukrainian-held bastion of Vuhledar in February.
In the latest internal shakeup in Ukraine, Zelenskiy dismissed the governors of three regions: Luhansk in the east, Odesa on the Black Sea in the south and Khmelnytskyi in the west. No reason was given. He has replaced several other governors since the start of the year, including the leadership of most of the frontline provinces.
The front lines in Ukraine have barely moved for four months despite the most intense infantry battles of the war. Russia's assaults have largely failed across most of the front line, apart from Bakhmut where it has captured the east of the city and advanced north and south as it tries to encircle it.
Both sides describe the fighting in Bakhmut as a "meat grinder", with the battlefield strewn with dead.
After recapturing swathes of territory in the second half of 2022, Ukraine has lately kept to the defensive, planning a counter-offensive later this year after muddy ground dries and Western armoured vehicles and tanks arrive.
Russia invaded its neighbour a year ago, describing Ukraine as a security threat. It claims to have annexed nearly a fifth of Ukrainian territory. Kyiv and the West consider it an unprovoked war to seize land.
Tens of thousands of Ukrainian civilians and troops on both sides are believed to have been killed. Ukrainian cities have been destroyed and millions of people have fled their homes.