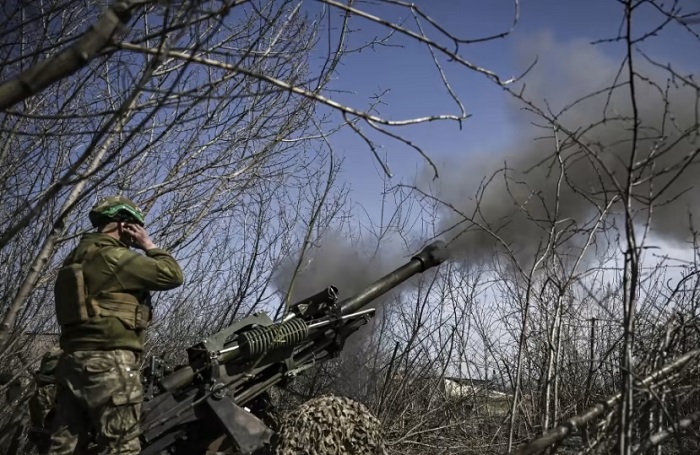 Ukrainian troops, on the defensive for months, will soon counterattack as Russia's offensive looks to be faltering, a commander said, but President Volodymyr Zelenskiy warned that without a faster supply of arms, the war could last years.

The Ukrainian military said early on Friday that 1,020 Russian troops had been killed over the previous 24 hours as they launched unsuccessful attacks on the towns of Lyman, Avdiivka, Mariinka, and Shakhtarske. But their main focus was still the mining town of Bakhmut.
"The enemy has not stopped its assault of Bakhmut," Ukraine's General Staff in a report.
Russian forces have for months been trying to capture Bakhmut as they seek to extend their control over eastern Ukraine, in Europe's deadliest infantry battle since World War Two.
Ukrainian forces have held them off, as they did again in Avdiivka, Mariinka and Shakhtarske, among the 80 Russian attacks that Ukrainian defenders repelled over the past day, the military said.
There was no immediate word from Russia on the latest fighting and Reuters could not verify the battlefield reports.
Ukraine's top ground forces commander Oleksandr Syrskyi said earlier his forces would soon begin a counter-offensive after withstanding Russia's winter campaign.
He said Russia's Wagner mercenaries, who have been at the front of Moscow's assault on eastern and southern Ukraine, "are losing considerable strength and are running out of steam".
"Very soon, we will take advantage of this opportunity, as we did in the past near Kyiv, Kharkiv, Balakliya and Kupiansk," he said, listing Ukrainian counteroffensives last year that recaptured swathes of land.
There was no immediate response from Moscow to suggestions its forces in Bakhmut were losing momentum, but Wagner boss Yevgeny Prigozhin issued statements in recent days, warning of a Ukrainian counterassault.
'More quiet'
Reuters journalists near the front north of Bakhmut saw signs consistent with the suggestion that the Russian offensive in the area could be waning. At a Ukrainian-held village west of Soledar, on Bakhmut's northern outskirts, the intensity of the Russian bombardment noticeably lessened from two days earlier.
"It was really hot here a week ago, but in the last three days it has been more quiet," said a Ukrainian soldier who used the call sign "Kamin", or "Stone".
"We can see this in the enemy's air strikes. If before there were five-six air raids in a day, today we had only one helicopter attack," said the soldier.
Zelenskiy said Europe must increase and speed up its supply of weapons, again calling for long-range missiles, ammunition and modern aircraft, and impose additional sanctions on Russia.
"If Europe waits, the evil may have time to regroup and prepare for years of war," a clearly frustrated Zelenskiy said on Thursday in a video address to European Union leaders, delivered from a train.
At the EU summit, leaders approved a plan agreed upon by foreign ministers on Monday to send 1 million artillery shells to Ukraine over the next year. They also discussed global food security and sanctions on Russia.
Britain has pledged to supply armour-piercing munitions containing depleted uranium to help destroy Russian tanks, a step President Vladimir Putin said would force a response from Russia as the weapons had "a nuclear component".
Slovakia said on Thursday it had handed over the first four MiG-29 jets it has pledged to Ukraine, with the rest to be delivered in weeks.
Shifting focus
A slowdown by Russia in Bakhmut could mean it is diverting its troops and resources to other areas.
Britain said on Thursday that Russian troops had made gains further north this month, partially regaining control over the approaches to the town of Kreminna. Intense battles were also underway further south.
Ukrainian military analyst Oleh Zhdanov agreed with that assessment. He said on YouTube that Russia's attacks on Bakhmut were decreasing, and it was shifting its efforts south to the town of Avdiivka.
Russia's forces have become more active in areas to the north in the Kharkiv and Luhansk regions as well as central Zaporizhzhia and southern Kherson regions, he said.
Zelenskiy had earlier on Thursday continued a tour of front-line provinces, visiting the Kherson region in the south a day after meeting troops near Bakhmut.
A video showed him meeting residents in Posad Pokrovske, a bombed-out village on the former Kherson front line recaptured in Ukraine's last big advance last year.
Russia invaded Ukraine in February 2022 in what it calls a "special military operation", saying Ukraine's ties to the West were a security threat. Since then, tens of thousands of Ukrainian civilians and soldiers on both sides have been killed.
Russia has destroyed Ukrainian cities and set millions of people to flight. It says it has annexed nearly a fifth of Ukraine. Kyiv and the West call the war an unprovoked assault to subdue an independent country.