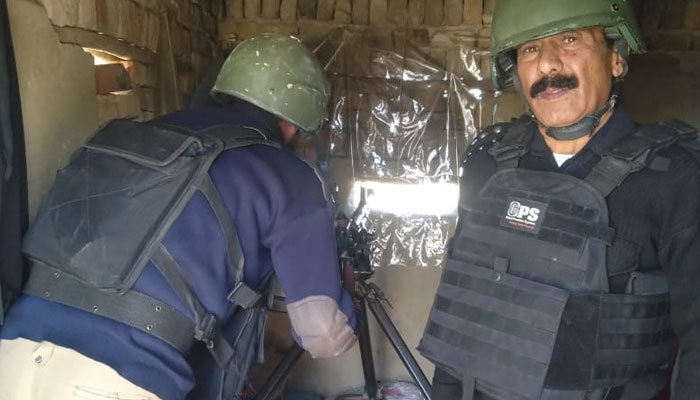 A terrorist attack on a police station in Lakki Marwat on Thursday martyred four policemen, including Deputy Superintendent of Police (DSP) Iqbal Mohmand, and injured six other cops.

A police spokesperson said that terrorists launched an attack on the Saddar Police Station of Lakki Marwat which led to an intense exchange of fire between the police party and the terrorists.
As the news of the attack was received by DSP Mohmand, he, along with his team, rushed to the attack site to assist the embattled cops.
However, the DSP's car was hit by a remote-controlled roadside bomb near Pirwala Morr, which martyred DSP Mohmand and three of his gunmen identified as Karamat, Waqar, and Ali Marjan.
On the other hand, six cops were injured during the attack at the police station. The injured cops were identified as Head Constable Farooq, Constable Gultiaz, Amanatullah, Asghar, Sardar Ali, and Arif.
As per the spokesperson, the terrorist fled after the attack while police launched a search operation to apprehend them.
Funeral prayers offered
Meanwhile, funeral prayers for the martyred policemen were offered at the Police Lines in Lakki Marwat and attended by senior police officials and community leaders.
'Sacrifices of police unforgettable'
Following the attack, Prime Minister Shehbaz Sharif expressed profound grief and sorrow over the martyrdom of four police personnel.
In a tweet on Thursday, PM Shehbaz said the sacrifices of the police officers in the war against terrorism were unforgettable.
The PM prayed that Allah Almighty grant the martyrs a place in heaven and speedy recovery to the injured.