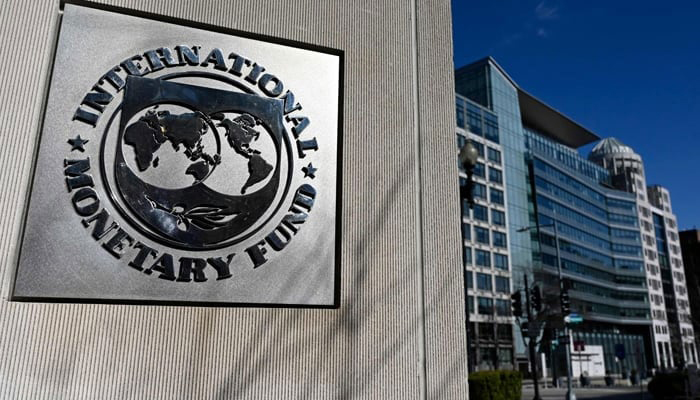 IMF says CAD to clock in at 2.3% in FY23 and 2.4% in FY24.
Close to 90% of advanced economies will experience slowing growth.
Most countries will avoid a recession in current fiscal year.
---
As the economic situation remains gloomy, the International Monetary Fund (IMF) slashed Pakistan's real GDP growth rate projection from 2% to 0.5% for the current fiscal year.
In the latest World Economic Outlook (WEO) report released on Tuesday, the IMF forecast that the country's GDP growth rate would be 3.5% in fiscal year 2024. In its last report issued in January, the lender had downgraded the growth projection to 2% from 3.5%.
The IMF report forecast that inflation, measured by the Consumer Price Index (CPI), would be recorded around 27.1% in FY23 and fall to 21.9% in FY24.
Meanwhile, the current account deficit (CAD) was forecast to clock in at 2.3% and 2.4% in FY23 and FY24, respectively.
The IMF's downgrading comes days after the World Bank and Asian Development Bank lowered Pakistan's growth rate projections to 0.4% and 0.6%, respectively.

The country's economy has been struggling to recover, with inflation at a decades-high level and several companies shutting down or reducing operations citing the economic situation. The delay in the release of an economic bailout by the IMF is adding to the uncertain situation. 
Global situation
The international lender lowered its outlook for the global economy as well, while predicting that most countries would avoid a recession this year despite economic and geopolitical concerns.
The IMF predicted the global economy would grow by 2.8% this year and 3% in 2024, a decline of 0.1% from its previous forecasts in January.
"The global economy is recovering from the shocks of the last few years, and particularly of course the pandemic, but also the Russian invasion of Ukraine," IMF chief economist Pierre-Olivier Gourinchas said in a press briefing ahead of the report's release.
The leadership of the World Bank and IMF hope to use this year's spring meetings to promote an ambitious reform and fundraising agenda.
But their efforts will likely be overshadowed by concerns among member states over high inflation, rising geopolitical tension, and financial stability.
Advanced economies drag down growth
The overall picture painted by the WEO is a gloomy one, with global growth forecast to slow in both the short and medium terms.
Close to 90% of advanced economies will experience slowing growth this year, while Asia's emerging markets are expected to see a substantial rise in economic output — with India and China predicted to account for half of all growth, IMF managing director Kristalina Georgieva said last week.
Low-income countries, meanwhile, are expected to suffer a double shock from higher borrowing costs due to high-interest rates, and a decline in demand for their exports, Georgieva said. This could worsen poverty and hunger.
The IMF expects global inflation to slow to 7% this year, down from 8.7% last year, according to the WEO forecasts.
This figure remains significantly above the 2% target set by the US Federal Reserve and other central banks around the world, suggesting monetary policymakers have a long way to go before inflation is brought back under control.
The IMF's baseline forecasts assume that the financial instability sparked by the collapse of Silicon Valley Bank last month has been broadly contained by the "forceful actions" of regulators on both sides of the Atlantic, Gourinchas told reporters.
But he added that central banks and policymakers have an important role to play to buttress financial stability going forward.
Poor productivity weighs on medium-term outlook
Looking forward, the IMF forecasts that global growth will fall to 3% in 2028, its lowest medium-term forecast since the 1990s.
Slowing population growth and the end of the era of economic catch-up by several countries including China and South Korea are a large part of the expected slowdown, as are concerns about low productivity in many countries, according to Daniel Leigh, who heads the World Economic Studies division in the IMF's Research Department.
"A lot of the low-hanging fruit was picked," he told reporters ahead of the publication of the World Economic Outlook.
"On top of that now, with the geopolitical tensions and fragmentation, this is going to also weigh on growth," he said.
---
— Additional input from AFP